Razor sharp and beautifully crafted. That is what manually forged Forged knives stand for. A kitchen decoration that will serve you for years. Are you considering buying a knife by Forged but you have no idea which collection to choose? We will lead you step by step throught he world of hand-forged knives made from Japanese steel.
What will you find out in this article?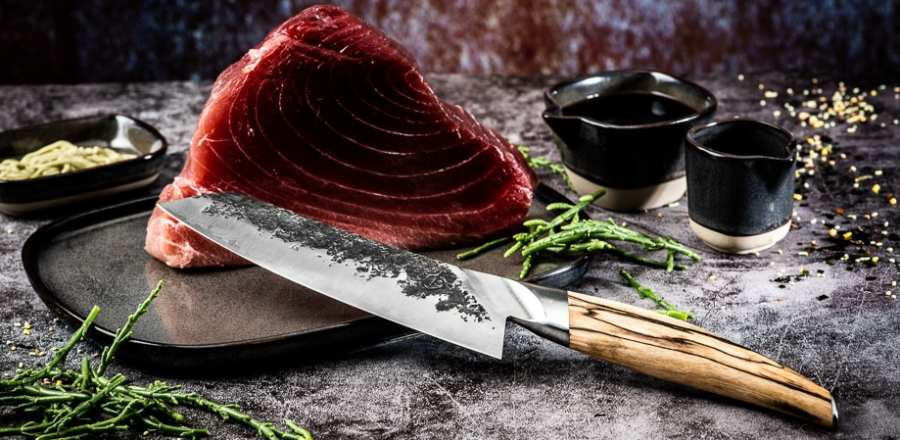 Forged knives production process
What makes Forged knives so special? These breathtaking knives are a combination of two countries and their specialisations:
✓ The Netherlands is known for the perfect strokes of its famous painters
✓ Japan has developed a school of knife masters who produce knives famous for their strenght, sharpness and durability
Combine Japanese craftsmanship with a Dutch perspective on beauty and detail and you get a knife that cuts through the ice and is beautiful to look at.
Why forging is so important?
Forging is used to strengthen and unify the material. High-quality forging strengthens the knife even several times. The blade of such a knife will not break easily as after appropriate heat treatment, it gains high resistance and durability. The knives by reknowned manufacturers are forged before final processing. Most often by means of a machine in the matrix. This is the form that gives the blade its initial shape.
However, the best artisans forge blades by hand using the free forging method. And this requires great skill, experience and craftsmanship. This is not production, this is a form of art.
How are Forged knives forged? See the video:
Six different styles, the same quality
Forged knives are available in six different collections. All of them are handcrafted from the highest quality Japanese steel. They mainly differ in design and details of execution.


Forged Katai
✓ born from sea waves
✓ hand-forged with delicacy for subtle beauty
✓ handle made from root wood
The inspiration for creating this collection were sea waves. The handles and blades are curved. The blade is hand-forged from 5 layers of Japanese steel using the same type of hammer as for other collections and then forged with a fine-grit hammer for a unique look. The handle is made of root wood. The wood is first impregnated with resin and then pressed and carved. Thanks to this, each knife has a unique look, size, colour and texture of wood.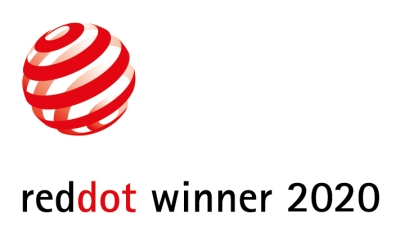 Katai collection was the winner of Reddot Design Award for design in 2020!
Forged Katai Santoku chef's knife

---

Forged Olive
✓ I'm beautiful and timeless
✓ a blade from durable Japanese steel and a handle from olive wood full of sun
✓ I'm the love at first sight and fit perfectly in hand
The combination of durable steel and beautiful olive wood lies at the roots of this popular edition. Olive wood has a beautiful and distinctive structure. The warm and timeless design is particularly well suited to modern kitchens with clean lines.

Forged Olive Santoku knife

---
Forged Sebra
✓ I'm chic and stylish
✓ forged blade made from steel
✓ handle from dark mozambik heban wood
The most stylish of all collections, with gorgeous, hypnotizing dark wood handles that will make you want to touch them all the time. These beautiful knives will decorate your kitchen for many years to come.

Forged Sebra Japanese vegetable knife

---
Forged VG10
✓ I'm the best example of Japanese par excellence production
✓ blade forged with 5 layers of the highest-quality Japanese steel, typical for Damascus knives
✓ handle made from luxurious root wood
The so-called Damascus knives are made of two or more different types of steel with different properties that are mechanically joined into a single whole. This steel takes over the best properties of the two materials used. The hardness and durability of the knife are combined with a beautiful and decorative pattern on the blade. As a result, Damascus knives are synonymous with skill and luxury. The VG10 series knives are packed in a leather case.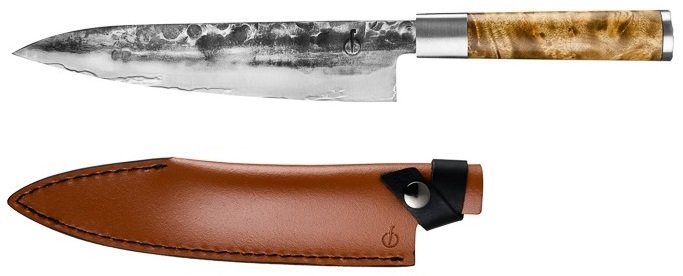 Forged VG10 chef's knife

---
Forged Brute
✓ I'm an animal made from fire and ash
✓ master blacksmith, fire and Japanese steel - that's all I need
✓ I'm not a mirror polished lady, I wear my scars with pride
Fully forged knives are made exclusively from steel in the hands of the most skilled blacksmiths working for Forged. They are not polished, so you can see traces of forging, and each piece is unique. For lovers of pure craftsmanship without embellishments.

Forged Brute chef's knife

---
Forged Intense
✓ I'm a peaceful force
✓ fully forged knife with little accents
✓ carefuly polished, for a subtle look
These knives are "intense, but not brutal." Unlike the fully forged Brute series, the Intense series is more subtle and has a calmer and more traditional look. If you like knives with a metal handle, but a more subtle design, this collection is for you.

Forged Intense universal knife

Each of the Forged collections offers a full series of knives, depending on the application. See all Forged knives:
You can read about the differences between the individual knives in our shopping guide.
---
How to care for Forged knives
Forged knives are handcrafted products. Their production is based on a centuries-old Japanese tradition. These knives will be your faithful companions for many years to come. However, these are not industrial products and they require some special care:
forged knives are not dishwasher-safe
wash them with warm water with delicate detergent
dry them with a cloth immediately after washing
if the knife stays in contact with liquid for a longer time, rusty stains may appear on it's surface
clean the knife before first use as it's covered with protective foil, which makes transport and storage safer
knife handles from Brute and Intense collection may get your hands dirty for some time as they are covered with protective layer that will soon dissapear
if you don't use your knives for a long time, it is recommended to lightly lubricate them with natural oil, e.g. olive oil or sunflower oil
knives with wooden handle should be from time to time (depending on how frequently you use them) oiled with the same oil you use for the maintenance of your cutting boards
The manufactiuring process of Forged knives is a real experience, and we believe that using them will be an experience as well.