de Buyer days
de Buyer - depuis 1830
The French brand de Buyer is the master of pans. It has been producing iconic steel pans since 1830. And not only them. Discover the world of French gastronomy with de Buyer.
Steel or non-stick?
Which pan is right for you?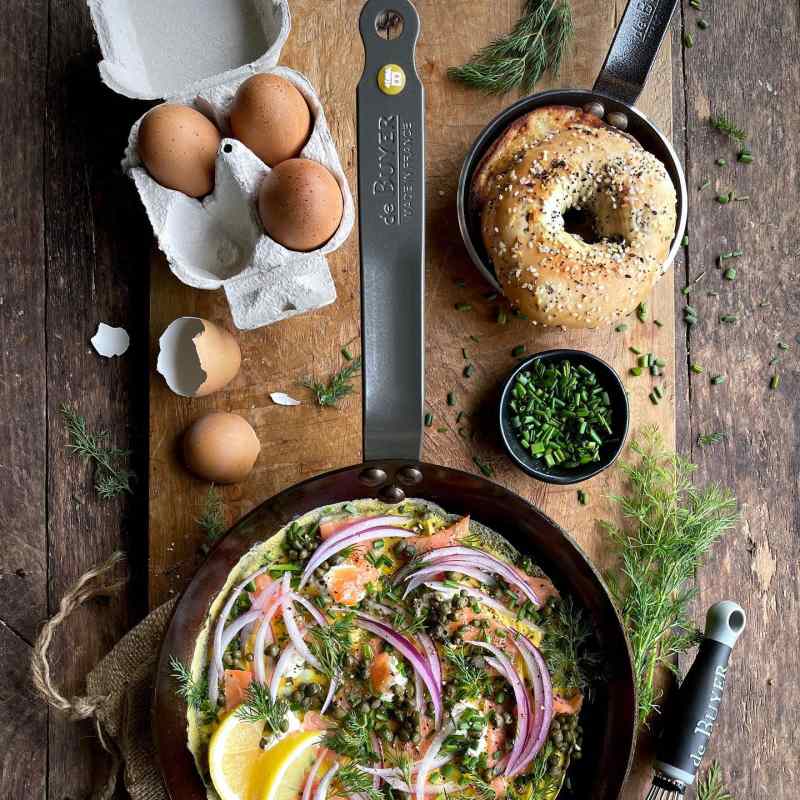 Steel pans by de Buyer
They have truly perfected the art of making pans at de Buyer. A steel pan is like wine, the longer and more often you use it, the better it gets.
pans for life - with proper care they will outlive you
naturally non-stick - becomes non-stick when you use it
great results - perfect steaks, fluffy pancakes
100% natural - steel is an ecological and recyclable material. No chemicals, just lubricated with love and care with beeswax.
suitable for all heat sources, including induction
When to choose a steel pan?
you want a quality pan to last a lifetime
for all heat sources, also suitable for the oven
a pan that conducts heat evenly and you can heat it to high temperatures, e.g. to sear meat
What to watch out for
water - steel is a natural material so it rusts water. The pan should be not put in the dishwasher and you should not let it soak. Clean with a sponge and hot water and dry well immediately. Or... just wipe it with a paper towel after use. Do as the French do - they simply don't wash the pans.
first use - steel becomes non-stick with use. Before the first use, it is necessary to season your pan, to "bake" it.
black colour - yes, a proper steel pan will never be silver again but don't worry about it. As the French say - the blacker the better.
weight - steel pans are heavy, but they are 40% lighter than cast iron. They also heat up faster.
If you want a proper pan to last a lifetime, choose a steel one. The magic ingredient in French cooking is butter, but the secret to success is the right pan.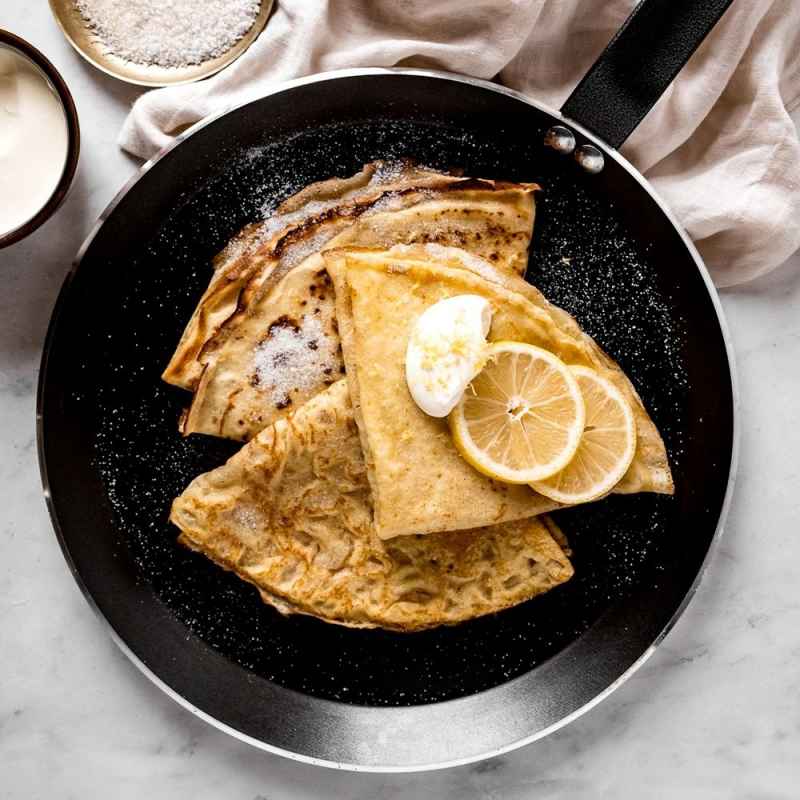 Non-stick de Buyer pan
Quality pans made of cast light aluminium with a highly durable non-stick coating.
100% safe for health - without PFOA and PFOS
light and excellent heat conduction - thanks to the aluminium core
extremely durable non-stick layer - it makes preparing food and cleaning the pan easy
the shape remains the same - thanks to the thickness of the material
suitable for all heat sources, including induction
Choc Resto Induction collection has been designed for optimal heat conduction and accumulation. Thanks to the extra thick layer of aluminium (5 mm) and the special ferromagnetic bottom, it is ideal for induction. However, it is suitable for all types of heat sources.
Choc B Bois collection is equipped with a comfortable beech handle finished with beeswax that protects the handle from heat (e.g. on gas stoves) and simplifies the grip.
Choc Extreme collection has been developed for professional kitchens. It has a 7mm strong magnetic bottom, an extremely hard surface and a great product lifespan
When to choose a non-stick pan?
you prefer light pans, steel or cast iron are too heavy for you
you need a second, lighter pan that you can toss around, e.g. for eggs or pancakes
you like simple and quick cooking
you want to cook with a minimal amount of fat
What to watch out for
cheap = probably won't last long, the cheap non-stick top layer will scratch off soon
light = thin pans seem great in the hand, but they warp quickly. And you won't fry anything evenly with them anymore
PFOA = perfluorooctanoic acid. Cheap non-stick coatings contain this substance and it is released when the layer is damaged. It is harmful to health (it is a potential human carcinogen and can also cause infertility)
Non-stick pans are popular. They are easy to handle and are often "the second pan" in the kitchen. You usually have to replace them quite often, the cheap ones every one or two years, or even after a few months. De Buyer non-stick pans will serve you much longer. Thanks to their great properties, they are lighter than steel pans but slightly heavier than cheap aluminium pans.