Gifts for people who have everything

Gifts for those who have everything
Do you know this kind of people who have everything or - on the contrary - don't need anything at all? They are always at the top of the list of Christmas "favourites" when it comes to choosing the right gift. We've been thinking long and hard for you at Kulina and here's our list of gifts that have the power to put a smile on the face of even the biggest sceptics, even the most spoilt and those who go to extremes when it comes to practicality.
Unbreakable? Seriously? Prove it!
They say you can't have too many glasses at home and this is because they tend to break all the time. But, it doesn't have to be like that... Glasses made of durable, environment-friendly plastic can also look great and they won't break! The glasses that we offer come from Club collection by the German brand Koziol, which offers practical, 100% sustainable products for everyday use. No matter if it's a tornado or a bunch of kids that are going to pass through your house, it will be ready for it.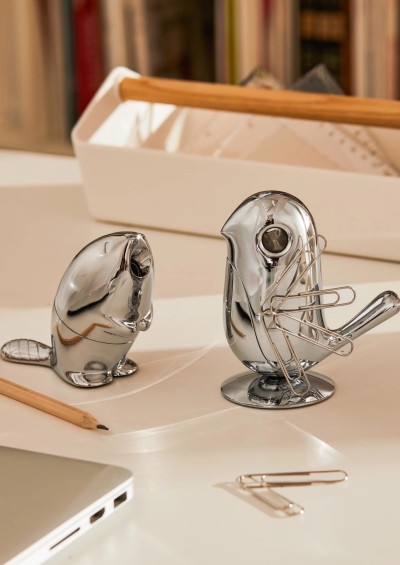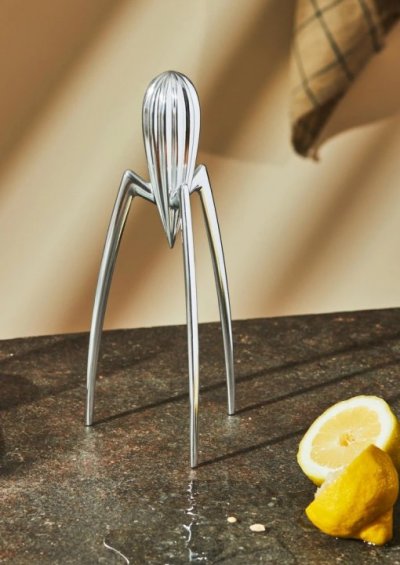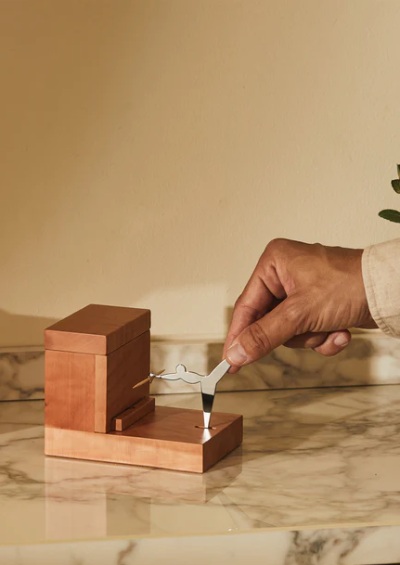 Well, this is nonsense...
These items were created by the world's leading designers working for the Italian brand Alessi. Their goal was to entertain and provoke, but they didn't want their designs to be "just for show". So if you are asking yourself, what do I need a beaver for these days, take a closer look. The powerful, shiny beaver bites into your pencil and won't let go until it's razor-sharp. Regular pencils aren't out of fashion and neither is the beaver. Check out other goodies for the office.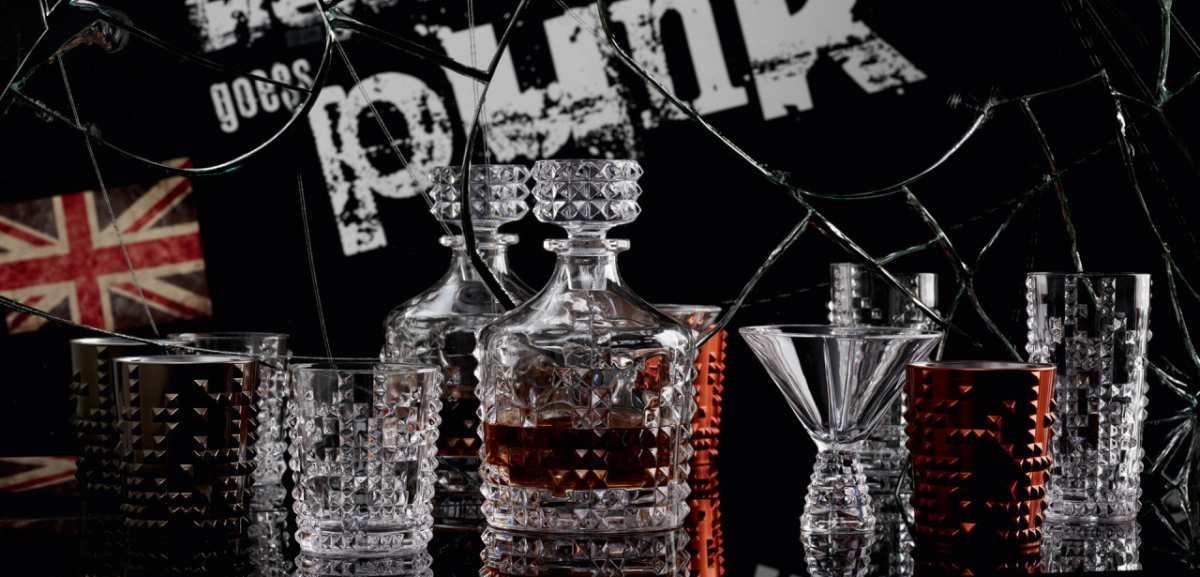 Punk is not dead
Punk is not dead. And you can really feel like a rebel when after a hard day's work you pour your favourite drink into one of the glasses from Nachtmann Punk glass collection. British design student Anke Buchmann designed this successful collection for the German glass factory as part of the NextGen program. Small pyramids typical of punk "collars" give traditional glass an unconventional twist.

You don't need it. But you want it.
He already has some high-quality chef's knife. That's for sure. But... does he have a sabre? What does he need a sabre for? Well, for a sabrage of course! If you want to show off in front of your friends (whether they are your workmates or groomsmen), you won't be popping the champagne just like that, right?
Beautiful kitchen knives will melt the heart of every cooking lover. Sometimes he or she are secretly dreaming about them, but they wouldn't buy them by themselves and that's why you (aka Santa) are here. From the "I don't really need it" category come steak knives. Every cook and meat lover would like to have them but their heart always fights with the reason. However, once they try them, they will never want to "prick" the steak with a standard knife again.
Gifts for people who have everything
What can you actually give as a gift to a person who has everything?
Everyone knows someone who is nearly tough to shop for because they already have everything they could ever need or desire, they dislike receiving material items, or they are picky.
Shopping for them might be challenging, so besides some sopping suggestions below we've compiled our top picks - including edible delicacies and some creative ideas that will help you to surprise and thrill even the most difficult recipient.
It's crucial to consider what the recipient would truly value and enjoy when picking a gift for someone who has everything. Here are some suggestions to get you going:
Experiences: Consider giving them the gift of an experience, such as tickets to a concert, a cooking class, a spa day, or a hot air balloon ride. Experiences create lasting memories and can be more meaningful than material possessions.

Shopping vouchers: Let them choose what they want. We offer unlimited gift vouchers in Kulina so that they can create the story of their home with us.
Delicacies: Buy them delicious, high-quality tea, organic spice blend or olive oil with truffles. Delicacies are presents that never go out of style and will please even the person who has everything.

Personalized Gifts: Opt for personalized items, like a custom-made piece of art, a monogrammed accessory, or a bespoke piece of jewellery. These show extra thought and effort.

Charitable Donations: Make a donation to a charity or cause that aligns with their values. This demonstrates a consideration for their passions beyond material possessions.

Subscription Services: Gift them a subscription to a service they might enjoy, such as a gourmet food delivery, a book club, a streaming service, or a monthly wine or tea subscription.

Time and Company: Sometimes the most valuable gift is spending quality time with someone. Plan a special outing, dinner, or a day doing activities they love.

Unique Antiques or Collectibles: Look for rare or vintage items that align with their interests, such as antique books, vintage watches, or collectable items.

Classes or Workshops: Enroll them in a workshop or class that could help them explore a new interest or hobby, like pottery, photography, or woodworking.

Home Services: Arrange for a cleaning service, landscaping, or a gourmet chef to cook a meal at their home. These services can make their life more convenient and enjoyable.

Digital Gifts: Consider digital gifts like online courses, e-books, or memberships to platforms they might enjoy.

Handwritten Letters or Journals: A heartfelt letter expressing your appreciation and well-wishes, or a beautifully crafted journal, can be a cherished gift.

Luxury Food or Beverages: Choose high-quality wine, rare whiskey, or gourmet food items that they might not have tried before.

Plant or Tree: A living gift like a potted plant or a tree to plant in their garden can symbolize growth and longevity. Check our offer of flower pots or vases to accompany the flowers.

Tech Gadgets: If they're into technology, consider the latest gadgets or smart devices that can add convenience or entertainment.
Remember that the thought and effort you put into the gift are what truly matters. Rather than focusing on material value, aim to choose a gift that resonates with their interests, passions, or experiences they can cherish.
How to choose a perfect gift? What aspects should you consider when buying a present?
Choosing the perfect gift involves thoughtful consideration of the recipient's interests, preferences, and occasion. Here are key aspects to consider when buying a present:
Recipient's Interests: Tailor the gift to the recipient's hobbies, passions, and activities. A gift related to something they love shows that you've put effort into selecting something meaningful.

Occasion: Consider the reason for the gift—whether it's a birthday, anniversary, holiday, or a special milestone. The occasion can guide you toward appropriate gift options.

Relationship: Your relationship with the recipient matters. A gift for a close friend might be different from a gift for a coworker or a family member.

Age: The age of the recipient can influence the type of gift that would be suitable. Gifts for children, teenagers, and adults can differ significantly.

Personalized Touch: Personalized gifts with the recipient's name, initials, or a special date can add a unique and sentimental touch.

Practicality: Consider whether the gift will be useful in the recipient's daily life. Practical gifts that align with their needs can be thoughtful and appreciated.

Quality: Choose a gift of good quality that reflects your care and consideration. Well-made items tend to last longer and leave a positive impression.

Surprise Factor: If possible, add an element of surprise or novelty to the gift. Something unexpected can make the present even more memorable.

Sentimental Value: A gift that holds sentimental value, such as a cherished memory or inside joke, can create a deep emotional connection.

Cultural Sensitivity: Be mindful of the recipient's cultural background and beliefs to ensure your gift is appropriate and respectful.

Ethical Considerations: If the recipient has strong ethical beliefs, choose a gift that aligns with their values, such as sustainable or cruelty-free products.

Budget: Set a budget that you're comfortable with and choose a gift within that range. Thoughtfulness matters more than the price tag.

Avoid Stereotypes: Avoid relying on clichés or stereotypes when choosing a gift. Think about the individual rather than relying on generalizations.

Gift Cards: If you're uncertain about the recipient's preferences, a gift card to their favourite store or restaurant allows them to choose what they'd like.

Presentation: Consider how the gift will be presented. Thoughtful wrapping or packaging can enhance the overall experience.
Remember, the best gifts show that you've taken the time to understand and consider the recipient's personality and preferences. Ultimately, it's the thought and effort behind the gift that makes it truly meaningful.