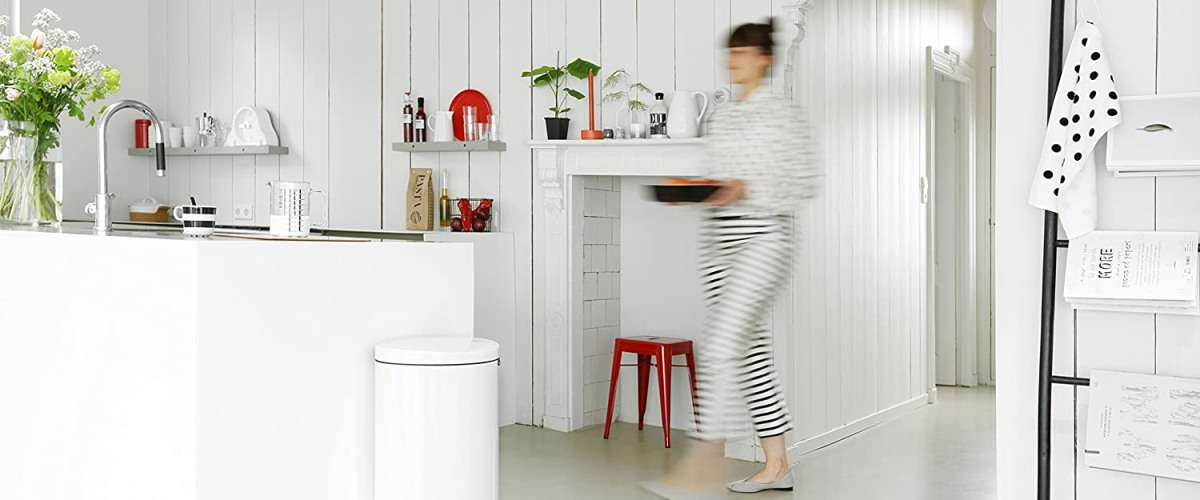 How to clean and properly organise your kitchen - 6 practical tips and the best products for perfect kitchen organisation
Organising your kitchen is a crucial step if you want your space to be functional, user-friendly and easy to keep clean. If you plan to clean your kitchen and make sure the items you need are always at hand and where they are supposed to be, you need to start with following some basic organisational tips and getting the necessary accessories. Follow our step-by-step guide on how to clean your kitchen and check our careful selection of practical and durable but also stylish accessories that are the key if you want to organise your kitchen perfectly.
What will you find in this shopping guide:
1/ How to clean your kitchen? Step-by-step guide.
2/ Stylish wastebins
3/ Organising your kitchen worktops
4/ Organising your kitchen cabinets and drawers
5/ Food storage - organising your pantry & food supplies
6/ Organising your sink area
7/ Kitchen textiles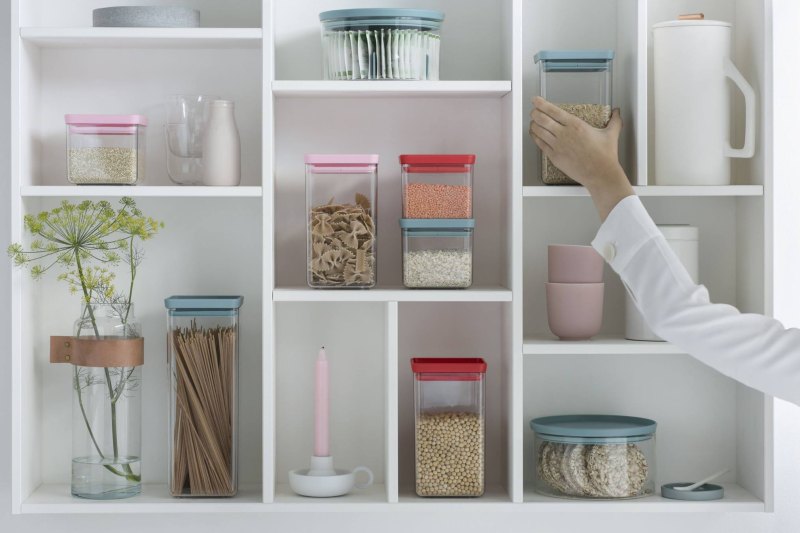 1/ How to clean your kitchen? Step-by-step guide.
Declutter your kitchen and while doing this… be a tough guy, the bad policeman, no excuses, no guilt. Let go of sentimental clutter and just throw away all the things that you don't use or that you haven't used for the last year. Make sure your kitchen always feels clutter-free. This makes every day cooking and living easier and it will make you actually enjoy being in the kitchen so if you want to do a spring cleaning start with taking out everything from kitchen cabinets and drawers, take each item in hand and decide whether to keep or toss.
Decide where to put things in your kitchen cabinets and drawers and while doing this think 'efficiency' first. Put your kitchen accessories where they'll be in easy reach when and where you need them. General rule is to keep items you use the most at eye level and the pieces that you use less often further away or up higher.
Organise your kitchen accessories by zones:
ZONE 1: everyday plates, bowls, basic glassware, cups, cutlery (easy to access, close to the dishwasher if possible)
ZONE 2: cookware and accessories used when cooking - pots, pans, cutting boards, spatulas, wooden spoons, mixing bowls, spices (close to the stove and oven)
ZONE 3: pantry or pull out storage cargo - dry foods, spices, larger kitchen gadgets or kitchen appliances you don't use on everyday basis
ZONE 4: waste bin and the sink area – organise your waste, cleaning supplies, dish washing accessories under or around the sink area
ZONE 5: tea & coffee station: tea and coffee as well as all the accessories should be kept next to mugs, cups and kettle
ZONE 6: elegant dinnerware, serving platters, glassware and bar accessories that you typically only use when having guests around. If it's possible, store these items in another area of your house (dining room or in the living room)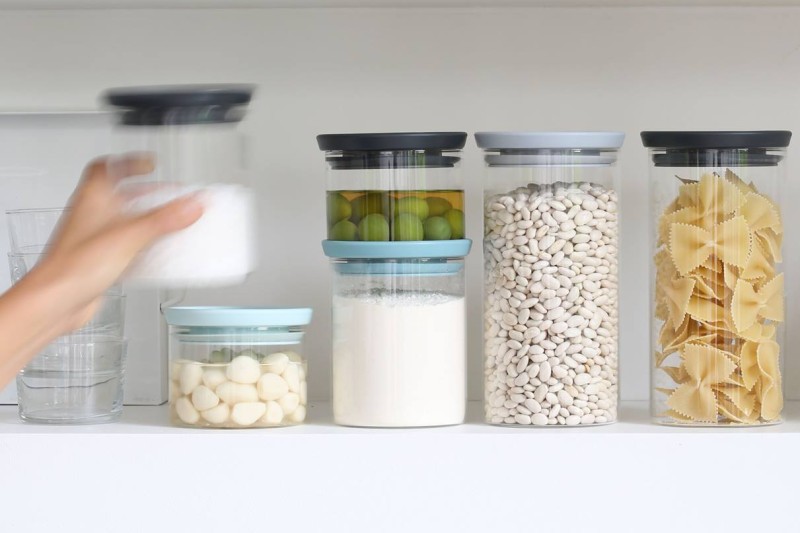 Unload cereals, baking goods, pasta, rice, snacks and other dry food into transparent food containers, baskets or other types of kitchen containers. You'll have more room, they will keep better and you'll be able to see everything and find the ingredients that you need faster.
Make use of drawer organizers and dividers, use different types of kitchen organisers, make use of your cabinets' and pantry doors, install hanging racks and hooks, utilize your wall and door space to keep everything super ordered and easily accessible.
Follow the kitchen-cleaning-plan – when it comes to everyday cleaning, make sure you always follow the same, simple cleaning plan. For example: clean worktops and table, do the dishes/ load the dishwasher, clean your stove top, wipe down your counters, clean the sink and take out the trash. More complicated chores like mopping the floor, descaling your kettle or cleaning your kitchen drawers can be scheduled for specific days of the week or the month
2/ Stylish wastebins
Organising your kitchen waste has always been a great challenge, and now that we are aware of the impact of the waste sorting on our environment, it could have become even more challenging. But premium manufacturers of waste bins make sure you don't have any problems when managing your waste – not when it comes to the durability and practicality of the waste bins that they offer nor when you think of stylish look of your kitchen space.
Where to keep a waste bin?
Traditionally you usually keep your waste bin under the sink which is a great solution for small kitchens or small families. However when you want to sort your rubbish, when your family produces a lot of waste or when you have a large kitchen you may wan to think of choosing an outside bin. Don't panic though! Modern waste bins look great and sometimes they don't even resemble a bin.
What kind of waste bins are available?
In Kulina we offer you a great selection of waste bins by one of the world famous kitchen products manufacturers Brabantia. Brabantia specialises in practical and elegant solution for modern homes, including waste management for every type and size of kitchen and family. In its catalogue it offers waste bins in all sizes, colours and with different practical features. Among them you will find:
pedal bins with one, two or three compartments for waste sorting
built-in waste bins (to be mounted on the inside of your floor cabinet door)
touch bins in all sizes and colours - elegant and stylish outside waste bins
stackable waste bins
bins for compostable waste
table bins
extra strong and compostable garbage bags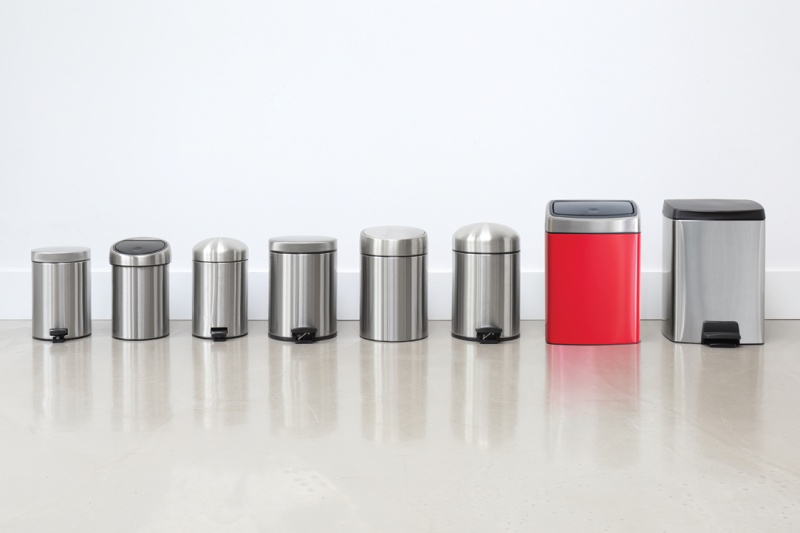 As you can see, the possibilities for perfect organisation of your kitchen waste are quite wide. All you have to do is to choose a perfect solution for your home and kitchen.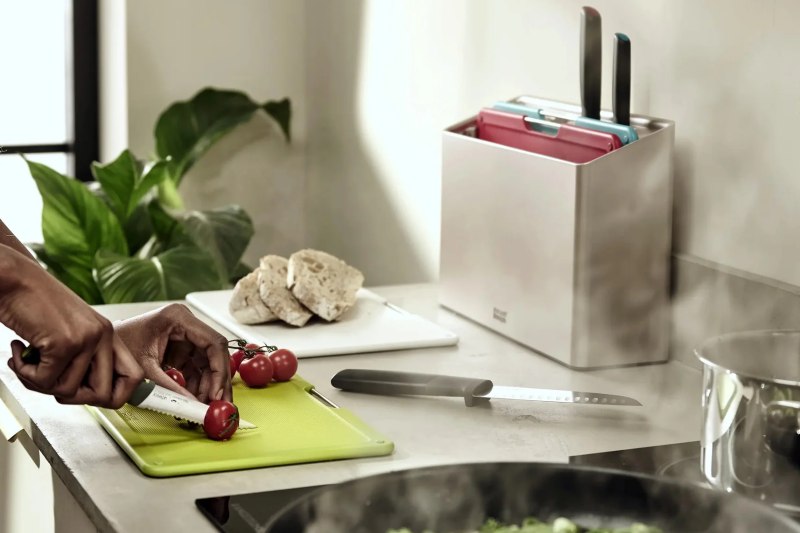 3/ Organising your kitchen worktops
If you want to enjoy spending time in your kitchen, if you want to have enough room for food preparation and if you want to have a feeling of a well organised, clean space around you, make sure you keep your worktops as clutter-free and as functional as possible. In order to achieve this you will need some kitchen accessories that organise countertops.
Cutting boards – keep them in a stylish way and keep them clean!
Where to store a cutting board?
The next thing kept on your kitchen worktop is a cutting board or a set of cutting boards. Depending on the style of your interior you can lean them against the wall in a stylish way, (especially if you go for wooden boards of different sizes) buy a set with a special stand or simply hide them in the kitchen drawer but remember that they need some air circulation to actually dry well.
How to clean your chopping boards?
No matter which way of storing your chopping boards you choose, make sure you clean and use them in a proper way so that they do not transmit germs. Remember that one of the main rules is to use different cutting boards for cutting meat, bread or vegetables. Never put a wooden cutting board into a dishwasher. Clean them right after use, wipe dry and from time to time season them with a drop of oil.
Some cutting boards available in Kulina are much more than just standard cutting boards. They feature grooves for collecting crumbs or juices, some are foldable making it easier to transfer chopped food into the pot or pan, some come with a stand or are in a set. Choose the one that best meets your needs or the one that you like the most. It's important – you will be using it every single day!
Knife blocks – keep your knives safe and sound and at hand!
What's one of the kitchen tools you use most often in your kitchen? A knife! And this is why it's really comfortable if you have your knives always at hand, stored nicely in a stylish knife block or on a magnetic knife rack.
Why is it good to keep your knives in a knife block?
Keeping your knives on or over the worktop has also another advantage over keeping them in a kitchen drawer. It secures your knives' blades and keeps them separated so that they stay sharp for longer. Make sure you clean your knife block regularly and that you follow manufacturer's instructions when doing so.
Bread bins – why should you buy them?
Where should bread be stored?
If you don't have a pantry, you probably store bread on your kitchen countertop or in a kitchen drawer. You should never store bread in the fridge or near a heat source. Bread should be stored in a dark, dry and cool place and a proper bread bin is a perfect choice. Which bread box is the best?
Quality bread bins are made of food-safe materials, allow air circulation, are easy to clean and keep your bread fresh for longer. Some of them have functional features such as lids serving as cutting boards. Choose a bread bin that suits the amount of bread you usually buy and that best suits your kitchen style. In Kulina you will find a great range of bread bins in different colours and styles. You can go for stainless steel, functional bread bins by Brabantia or WMF, wooden and ceramic bread boxes by Continenta or stylish bread bins by Alessi.
Utensil organisers – give your mixing spoons and turners a proper place
Keep your kitchen tools and utensils always at hand when you are cooking. If you are right-handed keep your basic utensils like kitchen ladle, mixing spoons or kitchen spatula to the right of the stove (either in a kitchen drawer or in a utensil organiser). To the left of the stove keep kitchen utensils and accessories that you still use but not that often (garlic press, can opener, meat mallets, tongs, etc.
Your utensil holders don't have to be boring! Add some style to your kitchen and choose organisers that will bring some character to your kitchen or that match its style.
Paper towel holders - every cook's best friends!
The last but not least… paper towel holder, every cook's best friend! Using a paper towel in your kitchen is hygienic and comfortable, unless it falls from the countertop to the floor every now and then or it is difficult for you to tear off as many leaves as you need with one hand. But with a proper paper towel holder it looks much better and it works much easier so make sure you get one that matches the style of your kitchen.
Your utensil holders don't have to be boring! Add some style to your kitchen and choose organisers that will bring some character to your kitchen or that match its style.
Kulina tip
Many people keep spices in their kitchen drawers or in the pantry but you actually use them while cooking and that's why the best place to store them is near the stove. You can use a special countertop spice rack or mount a rack or shelf for spices above your countertop so that they are always at hand when you need them.
4/ Organising your kitchen cabinets and drawers
When organising your kitchen cabinets and drawers try to group items together such as all your baking products and accessories, tableware and glasses, cookware, small appliances, etc. It makes sense as when you are doing a specific task, you can grab all you need at once.
How to organise your kitchen drawers?
For the perfect organisation of your kitchen drawers use wooden or plastic crates and lift-out storage boxes, as well as drawer organisers (including cutlery drawer organisers) and adjustable wooden dividers. Sort smaller items and accessories according to when and where you use them. Label containers to be able to find what you are looking for as fast as possible.
How to organise your kitchen cabinets?
In order to make the best use of your kitchen cabinets and make them as practical as possible use cupboard organisers, undershelf wire racks and organisers, stackable shelves for kitchen cabinets and all types of clever cupboard storage solutions that let you double-up on shelf space and avoid wasting the space between the shelves.
How to store pots and pans?
You can keep your cookware in pots & pans drawers or your kitchen cupboards or install a hanging rack for them on the wall or under your cupboards or a ceiling pot rack over your kitchen island.
If you decide to store your cookware in kitchen drawers you should think about buying special separators for them to avoid scratches that may destroy the non-stick coating. You can also use wire organizers for lids or lid holders that may be mounted on the inside of your pantry or floor kitchen cabinet doors.
For some smart solutions for your kitchen cabinets and drawers, check our offer of drawer cutlery organisers and other smart solutions.
Kulina tip
If you are the lucky one with the pantry get yourself over the door organiser to make use of the inner side of the pantry door. When organising, every space counts!
5/ Food storage - organising your pantry & food supplies
Kitchen is naturally a place where you prepare and cook food so proper food storage – whether of dry ingredients used for food preparation or the storage of already prepared meals is an important part of every kitchen organisation.
How do you store dry foods?
Dry ingredients should ideally be stored in a cool, dry and dark place such as pantry or closed kitchen cabinets. Recommended storage times for dried foods range from 4 months to 1 year but the higher the temperature, the shorter the storage time.
If the place in which you store dry foods is dark you can use transparent storage containers and jars. The main advantage of these is that you can see what's inside your containers at a first glance and that you can find things and cook faster. Having transparent food storage containers makes also the inside of your kitchen cabinets or fridge look neat and more organised.
If you go for ceramic or other types of containers that are not see-through use some nice looking labels. Labelling can also be useful for organising small drawer containers – put a label on the lids to be able to quickly identify their contents.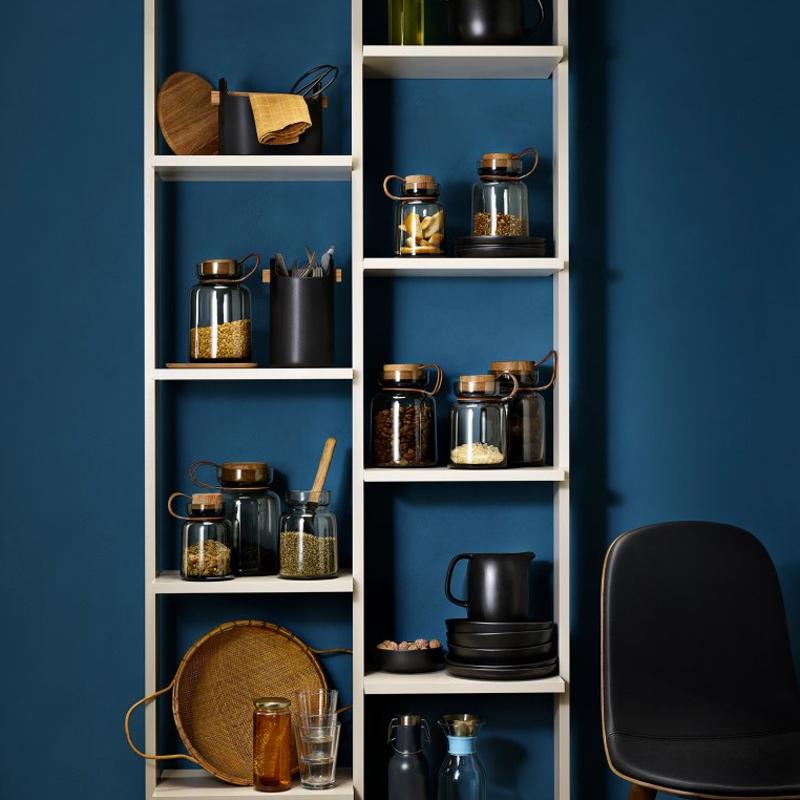 In Kulina you will find a wide range of food storage containers including glass jars and plastic containers in different shapes, colours, styles and sizes. Use them in the pantry or in the kitchen cabinets and choose some stackable countertop containers or stylish food jars to keep the foods you use most often on your kitchen countertop, always at hand. Remember that it's important to choose high-quality containers made of food-safe, BPA free materials that do not release any harmful substances when in contact with food.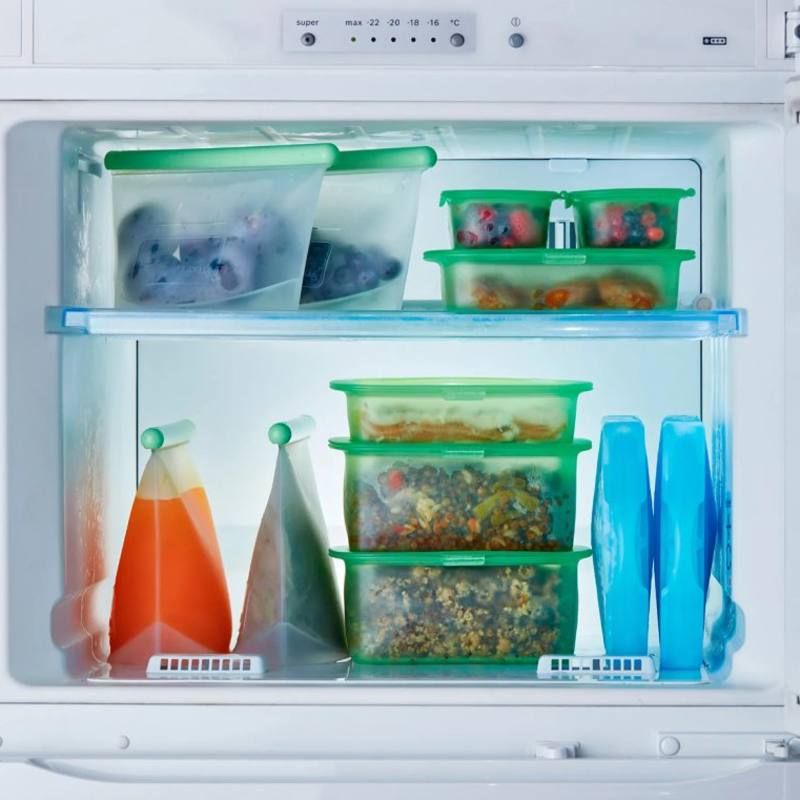 How do you store ready meals?
The best way to store ready food is to use glass containers suitable for use in the fridge. They are food-safe, have seal tight lids and are the best for storing leftovers or ready-made meals. You can buy them separately or in practical sets with sizes suitable for different food.
For transporting your homemade food and taking it on the go – to school or to the office, check our selection of lunchboxes.
6/ Organising your sink area
How to organise your sink area? Washing the dishes has never been so… stylish! Believe it or not but washing up accessories will help you not only to actually wash the dishes but also to keep it as hygienic as possible and organise the sink zone in an elegant and practical way.
Washing up accessories
Among washing up accessories available in Kulina you will find many accessories that will you're your sink not only much better organised but also more hygienic. You probably know that kitchen dishwashing sponges and cloths harbour more bacteria than kitchen brushes and if you keep them in the sink it gets even worse as they don't dry properly. In Kulina we offer you different solutions for your washing up zone that will keep an eye on these accessories and that will also make your sink look better.
In our offer of washing up accessories you will find durable and elegant dish brushes with built-in soap dispensers or suction cups for easy storage, special racks and organisers for dish brush, dish soap or dish sponge that can either be put outside the sink or hung inside, dish soap dispensers or washing up bowls.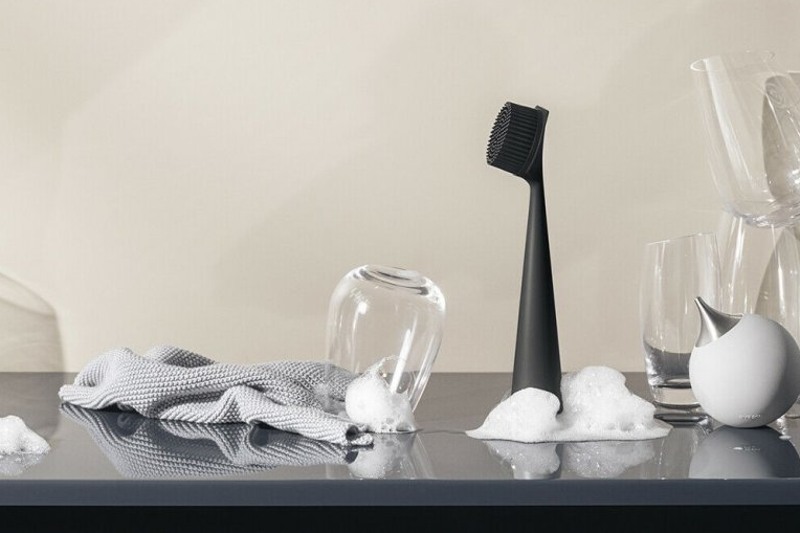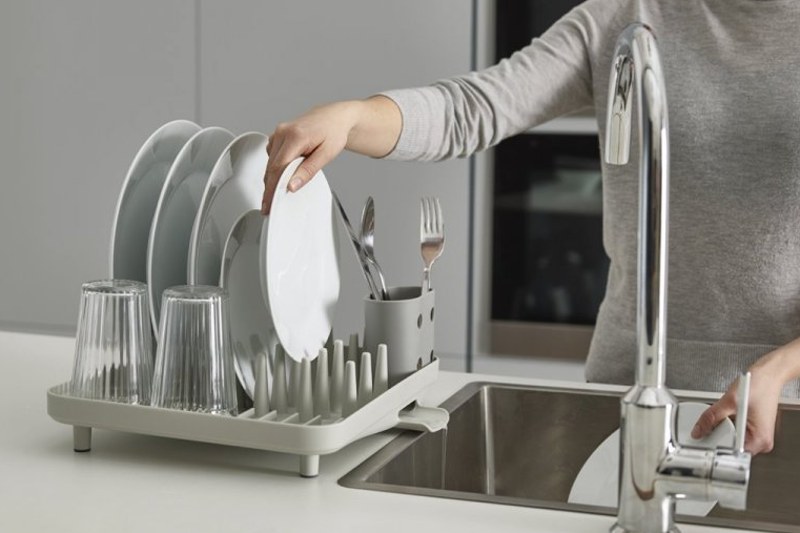 Dish drying racks
Do you need a dish drying rack?
If you don't use the dishwasher that often, if you live on your own or if you don't cook at home, you probably need a dish drying rack. Stop being unhappy about it as in Kulina you will find quite a wide offer of modern, elegant dish drying racks, dish drip trays (also expandable), cutlery drainers and sink pads. Their design is not only simple and elegant but they also feature many practical features that will make your life at the sink easier.
7/ Kitchen textiles
What kind of kitchen textiles should you use in your kitchen?
Kitchen textiles are very important when it comes to keeping your kitchen clean, safe and stylish. Kitchen tea towels assist you in washing the dishes, your kitchen apron is your suit for cooking and serving ready dishes to the table and your oven gloves and pot mats keep you safe from heat and prevent your countertops and table tops from getting destroyed by the bottoms of hot pots and pans.
Check our selection of stylish tea towels that will add character to your kitchen, practical quality aprons that will be perfect both for cooking inside or outside or go for textile pot holders and pot mats that will protect your hands and worktops. You can also check our wide selection of trivets to keep your table tops and countertops even more secure.