Knives are the basic element of every kitchen equipment. We use them several times a day. Good quality knives can last a lifetime, so it is worth to invest more money in buying a knife. And working in the kitchen will no longer be a torture, it will become a pleasure.
How many knives do you need and what to consider when choosing a knife for your kitchen?
What makes a good kitchen knife?
It's hard to tell at a glance if a knife blade will cut well (and especially for how long). The first clue might be the price. Unfortunately, it is not possible to produce a high-quality knife for 10 EUR. Also, pay attention to the material and method of production. Good quality knives are usually heavier, and the shape of the handle and the way it "fits" in hand is also important for comfortable work.
In addition to functionality, aesthetics also play an important role when choosing a knife. Who wouldn't want to hold a beautiful knife every day?
Knife quality indicators
production process - the best knives are forged
material - choose a knife made from a high-quality steel dedicated to knife production
price - renowned manufacturer is usually a guarantee of quality
Forged vs stamped knives
Stamped knives are usually cut out from a steel plate and then grinded.
Forged knives are forged by hand or by a machine.
Why forging a knife is so important?
Forging is used to strengthen and unify the material. This process can strengthen the knife several times. The blade of such a knife will not break, and after proper heat treatment it will gain high resistance and durability.
High-quality knives are always forged before final processing. Mostly in a machine with matrix. This is the form that gives the blade its initial shape. The best artisans then forge blades by hand using the free forging method. Today, this traditional method is no longer a production process but an art.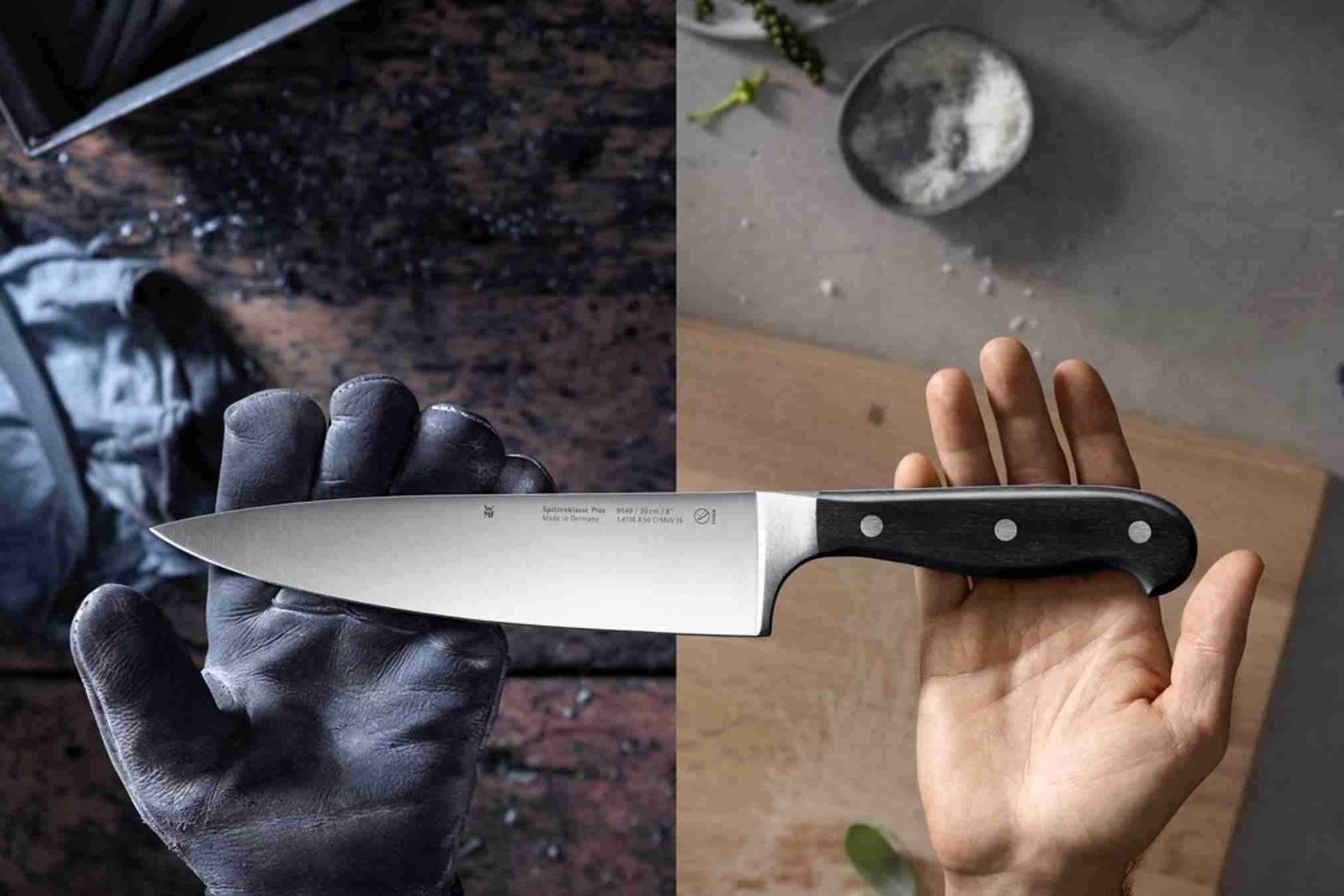 Material
The most common materials for the production of knives are stainless steel and high-quality steel. Damascus knives constitute a specific subgroup and ceramic knives are still quite popular. As we know, each material has different properties.
Our tip: if you are looking for an easy-to-maintain knife, choose a product made of high-quality stainless steel. If you are more demanding, you like to take care of and look after your things, choose a knife made of forged steel or even Damascus steel.
Stainless steel is the most widely used material for the production of kitchen and pocket knives. It is an alloy of iron, chromium and nickel or molybdenum with an admixture of carbon. It is resistant to corrosion and damage, adequately durable and flexible. However, it is incorrect to assume that it is completely corrosion-resistant. If it is not dried thoroughly, it becomes dull and stains may appear on the surface. It is easy to sharpen at home and lasts a long time. However, it does not have the same sharpness as carbon steel knives.

Carbon steel is the material of the highest sharpness. These knives are razor-sharp. Although they get dull faster than stainless steel blades, you can change it quickly with just a few strokes of the sharpener. These knives are not dishwasher safe and should be dried thoroughly after washing as they are very susceptible to corrosion. In this respect, they are similar to a cashmere sweater - no other type of wool is so soft, it's comfortable to wear and can last for a long time but you can't put it into a dryer.

Damascus steel consists of two or more types of steel with different properties that are mechanically combined. The type of steel we get as a result, takes over the best properties of the materials used. The hardness and durability of these knives are combined with a beautiful, decorative pattern of the blade. This makes Damascus knives the most luxurious type of cutlery.
Ceramic knives are made by pressing powdered zirconium dioxide under very high pressure and temperature. This material is extremely hard and will only get dull after years of extensive use. However, their great disadvantage is high fragility. Ceramic knives cannot be used for cutting meat with bones, frozen food or even hard pastries. They will break when squeezing garlic, they will break in the dishwasher, they will not survive a fall from the table top to the floor. You will also never sharpen them at home. They became popular years ago, when knives made from steel were "accused of depriving" fruits and vegetables from vitamins and leaving a metallic aftertaste. However, this claim is debatable. The ceramic knife should be in the kitchen only as a supplement to a good quality steel knife, and not as a replacement.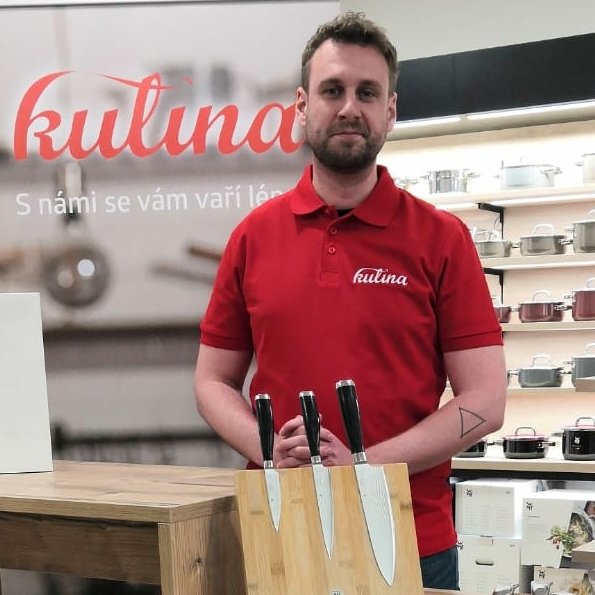 Jakub Černý, purchasing manager in Kulina
"Made of stainless steel" or "high-quality steel" is not enough to say about knife's quality. Reputable manufacturers usually have patented materials or grinding technologies and describe in detail the type and hardness of the material.
Pay attention to the HRC parameter - it is the Rockwell hardness level. The harder the steel, the more difficult it is to sharpen the knife, but it has a much better durability. High-quality kitchen knives have HRC from 52 to 56, Japanese Damascus knives have more than 60 HRC, and modern types of steel for the production of knives can reach 64 to 68 HRC.
What kind of knives do you need in the kitchen?
A high-quality knife is an investment. Mainly because one is not enough. The good news is that only three are enough for basic kitchen tasks. Many people make the mistake of buying an extensive set of knives, and dust settles on most of them. Often, for the same price, they can buy three basic knives of better quality, which will be reliable, durable and, above all, comfortable to use.
Basic kitchen equipment - 3 knives
Chef's knife- big knife for serious works
vegetable and fruit knife - small knife for small tasks
bread knife - with serrated blade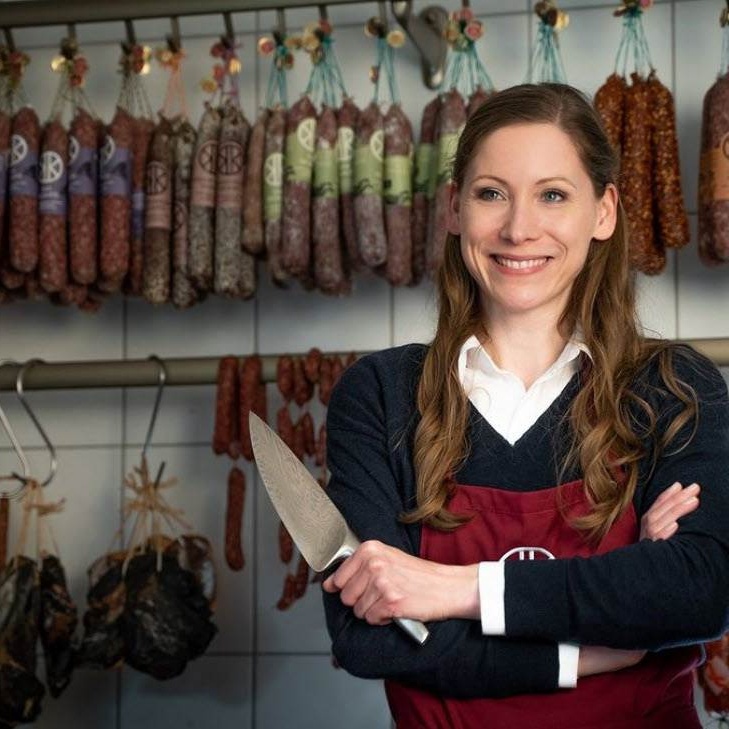 Katharina Kochová, co-owner of a family butcher's shop
High-quality knives should not be missing in any kitchen. A basic set should always include a large chef or Santoku knife. Whichever shape suits you better. In addition, a large serrated knife for bread, as well as soft vegetables and fruits. The third in the set is a small straight vegetable knife or a curved peeler for preparation and peeling work.
The basic set of knives for every kitchen
Below you will find three types of knives that non kitchen can do without. You can choose from a wide variety of products - from one collection or by different manufacturers.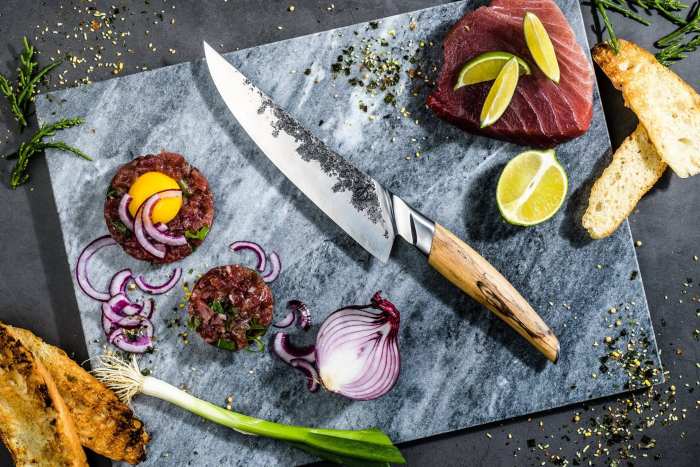 the right device for cutting meat, vegetables or herbs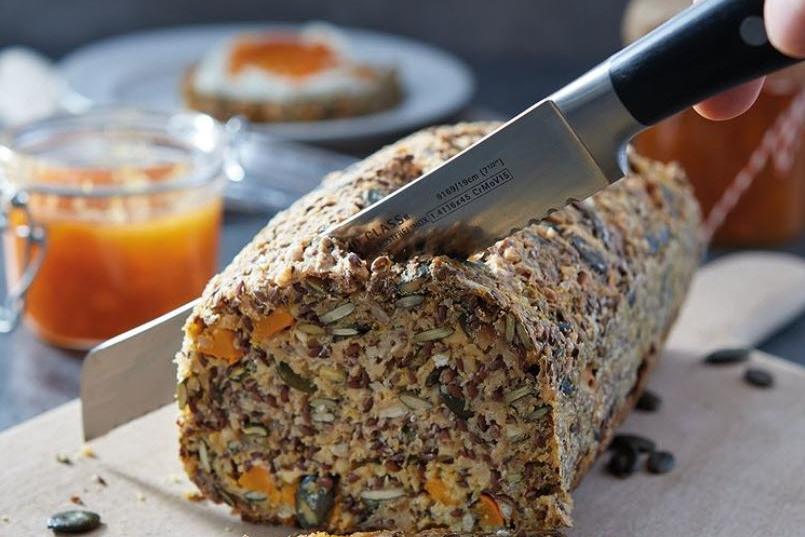 serrated knife for bread, soft vegetables and fruit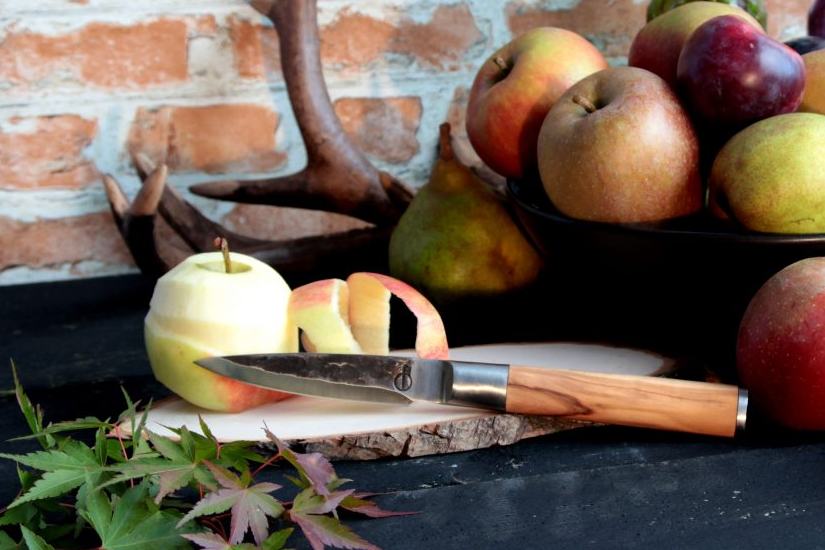 handy, little knife for peeling, cutting and all micro-tasks in your kitchen
Types of kitchen knives
You can do most of the kitchen tasks with a chef's knife, bread knife and vegetable knife. We recommend buying other types of knives depending on the food you regularly prepare in the kitchen. If you are a fish or poultry lover, you will probably use a carving and boning knife a lot. If you like grilling, you will appreciate the set of sharp steak knives. What kind of knives can you choose?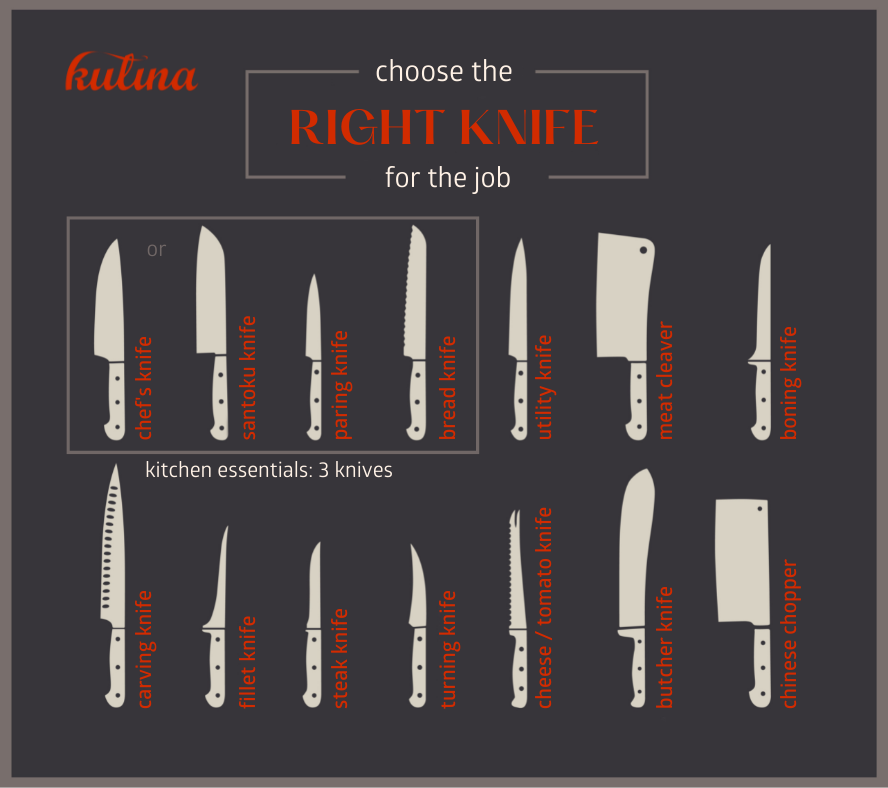 Chef's knife vs Santoku knife
Choosing the main knife for our kitchen - this is often the focus of our attention. The dilemma is whether to choose a classic "German style" chef's knife or a modern Japanese Santoku knife. What's the difference between them?
The traditional large and most versatile knife with a blade approx. 20 cm long and an upward curved tip is used by the vast majority of professional chefs. The cut is made in a swinging motion, called a cradle. The knife is sharp and tough, and it can handle tough challenges like boning meat or slicing hard vegetables like pumpkin and beetroot.
The Japanese chef's knife is distinguished by its sharpness and straight blade with an arc-shaped tip. It is designed for precise tasks, such as cutting meat into very thin slices or finely chopping vegetables and herbs. Cutting with a santoku knife requires different technique and is not suitable for cutting into large pieces.
Our tip: if you decide to buy only one of these knives and you are a lover of Asian cuisine, choose Santoku. If you're looking for a truly versatile, durable knife, a good quality chef's knife is the better choice.
Meat and vegetable knives
Choose the types of knives for your kitchen, based on the activities you do frequently and which knife type simply "fits" you better. We often encounter the fact that women choose a classic small knife for vegetables and small jobs, while men choose a universal medium or long knife to perform the same activities. The remaining types of knives can be divided into 2 groups - for vegetables and for meat.
vegetable knife - small practical knife with a blade 6-10 cm
universal knife - thin knife with a blade 10-18 cm
peeling knife - small knife with curved blade is perfect for removing spots

and blemishes from tomatoes and peeling potatoes.

cheese knife - medium, light knife with serrated blade and double tip. Often with holes in the blade to prevent soft cheese from sticking to it. You can use it also for cutting tomatoes.
filleting knife - a knife with a long and narrow blade, thanks to which you can clean fish perfectly and cut perfect fillets
boning knife- a knife with a characteristic slender blade shape and a straight edge with which you can easily cut the meat from the bones, remove tendons and skin
cleaver and butcher knife - right tools for portioning and slicing large pieces of meat and bones
steak knives - a set of knives for meat, perfect for serving steaks, roastbeef and other meat dishes, which can be hard to cut with with standard knife
How to care for your kitchen knives
If you do decide to invest in a high-quality knife, you need to pay some attention to it. Knives, whether steel or ceramic, are not dishwasher safe. Steel knives are prone to corrosion and ceramic knives can break. Dishwasher detergents contribute to the micro corrosion of steel blades. If you put your knives in the dishwasher, at least make sure they don't touch other objects. It is best to wash the knife with warm water under the tap and dry it thoroughly.
How to care for your knives properly
washing - wash your knives by hand, dry them well
storage - always separately, keeping your knives in a knife block or on a magnetic strip is recommended
sharpening - regular sharpening makes cutting easier
Storing your knives
Knives should never be "stacked" in a drawer with other cutlery. For their storage, you can choose special single drawer inserts, a knife block or a magnetic strip. Once you get a nice knife, it would be a shame not to display it in the kitchen. Magnetic blocks or wall strips are a perfect solution, thanks to which the knives are always at hand. You must remember though, that when removing a knife, you have to pull them towards you and not upwards. Otherwise, they may get blunt. See our wide range of blocks and magnetic strips: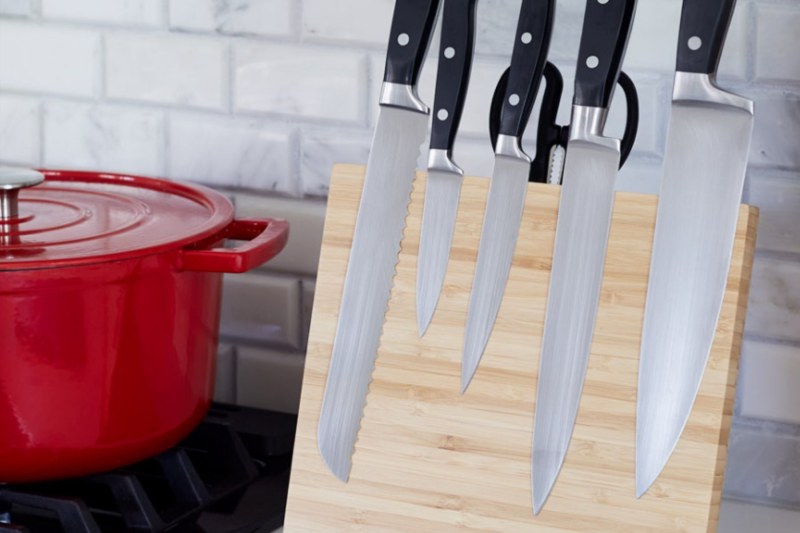 Knife sharpening
It is easier to cut yourself with a blunt knife than with a sharp knife. Even the best knives need regular maintenance. It is enough to "refresh" them with a whetstone once in a while. You can see how to do this in a short video. If you regularly care for your blades in this way, your knives will cut better and you won't need to sharpen them too often. Professional chefs use the sharpener every day, but in a household kitchen you don't have to do it that often. When sharpening with a whetstone is not enough for your knives, take them to a professional or use a sharpener or sharpening stone.