Pans are part of the basic equipment of every kitchen. Just like knives or pots. Therefore, it is worth paying due attention to their choice. A high-quality frying pan is not a seasonal trend, but an investment. Thanks to proper maintenance, it will serve you for many years, and above all - you will like it. For example, if you buy good meat, you will not be able to prepare a good steak if all you have is a thin, warped pan - even if you were David Copperfield!
How to choose a good pan?
What type of pans do I need?
We choose pans:
due to the size (number of people)
due to the type of cooker (suitable for gas, electric, induction cookers, preferably suitable also for the oven),
due to the food we cook (universal pans or pans dedicated to specific food - grill, wok, pans or crepes)
due to the material -most of all
A universal medium frying pan with a diameter of 25-30 cm is the basis of any home. Suitable for cooking for the whole family, it will easily hold 3-4 slices of meat. A smaller pan size (up to 24 cm) will be sufficient if you are single or have a partner and do not cook too often. It will also serve you well as an additional pan. However, one pan is usually not enough. So choose a second, additional pan depending on what you cook most often:
Basic kitchen equipment = 1 universal pan
universal pan - practically suitable for any type of food, one is enough for a start
deep pan - for preparing sauces, vegetables and stews (sauté or wok)
pan adjusted to the dishes you usually prepare - smaller "handy" (for example for frying eggs for one person) or special pan (for crepes or a grill pan).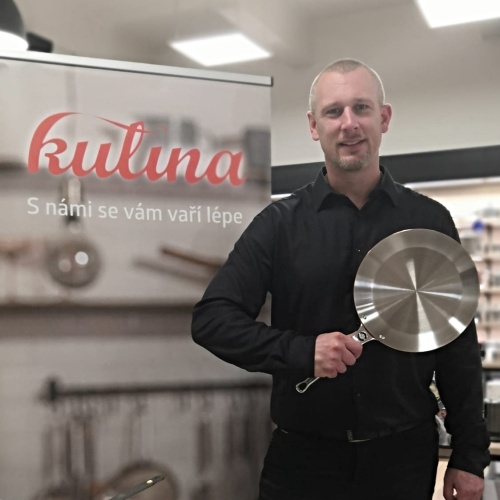 Honza Hajný, the manager of Chefparade cooking school
No chef can do without a good-quality frying pan. For example, when it comes to steaks, preparing a great juicy steak requires not only high-quality meat, but also a high-quality pan. The steak should be fried in a hot pan, which conducts heat well and evenly. Therefore, professionals most often choose traditional steel or cast iron pans. It is ideal if it also has handle that doesn't heat up for comfortable handling. Just make cooking fun.
Basic types of pans
Are you wondering why you should buy a special pan for pancakes or Asian dishes? Do you need it at all? Well, you can always use a universal pan. But if you cook frequently, one pan will not be enough. And if you make pancakes for your kids every Sunday, you'll love the pancake pan. What are the advantages of specialized pans?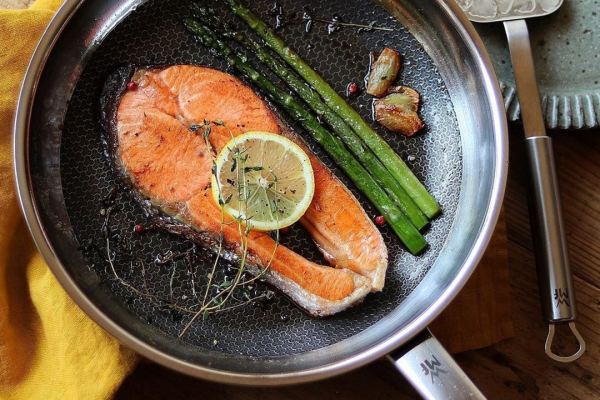 It has a wide range of uses, is suitable for frying, baking, cooking and flambéing. If it has a lid, it can also be used for stewing. You just can't do without it, so don't be afraid to invest more money when buying it. Available in several sizes adjusted to the number of people you cook for.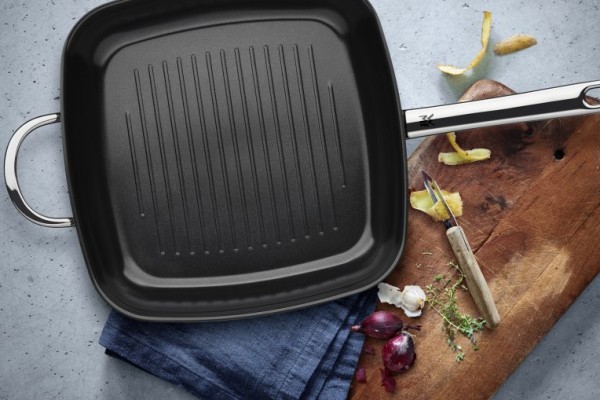 It has grills on the bottom - similar to these on a grill grate. Juices flow into the grooves, and can be easily poured out and used, for example, for a sauce. Grooves make steaks and vegetables look better, and they also make them crunchy.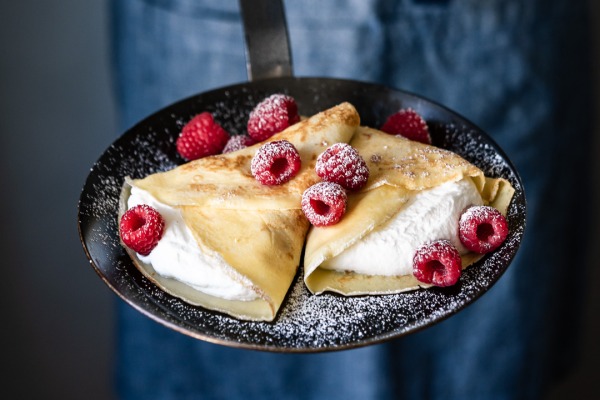 It has a minimal edge. Thanks to this, turning crepes with a spatula or with a skilful, fanciful swipe is very easy.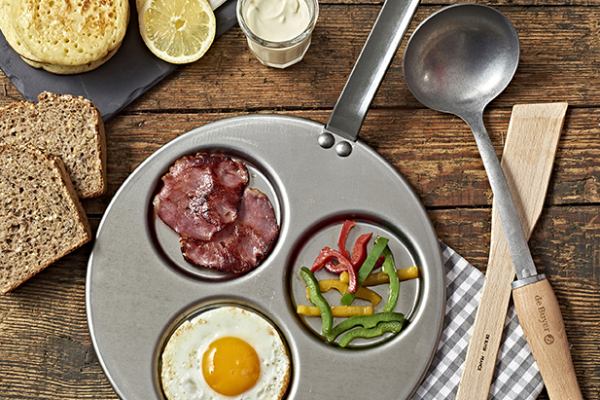 No more arguing about who gets the first pancake. Indispensable in family households, it can also be used for fried eggs, potato pancakes or bacon.
What kind of material to choose?
The choice of material is crucial for the pan. It's easy to choose an attractive lightweight pan at a reasonable price that promises a wonderfully non-stick surface and easy handling. But be careful. The problem with cheaper non-stick surfaces is their short lifespan (they scratch easily, the surface peels and shortly they are not non-stick anymore) and the material used (avoid material including PFOA and PTFE as their safety for health is at least questionable).
A light frying pan can be fun to handle. But again, be careful. The lighter the pan, the more difficult it will be to keep it warm. It can heat up quickly, but as soon as you put cold meat or vegetables on top of it, it cools down quickly and you won't be able to cook anything on it. And good frying is the source of flavour. The high direct temperature is crucial to create a caramelized shell on the surface of the meat, which will keep the juices inside and give this tasty, crispy crust on the surface. If the meat gives off juices, we will stew it, not fry it. Light, thin materials also have the unpleasant property of warping easily. And logically, where there is a warp, there is no heat. In addition, the oil flows to the sides, so the food burns in the middle and is bathed in oil at the edges.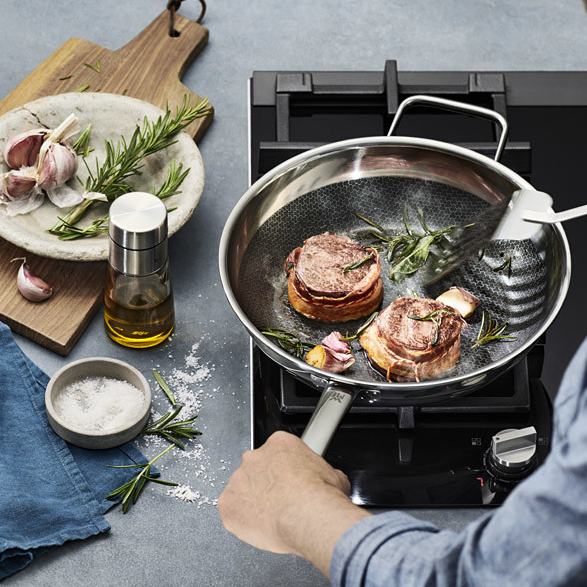 Pans with non-stick coating
In the case of pans with a non-stick coating, quality is the most important thing. Choose brands that ensure that the material isthat PFOA and PTFE-free (these were usually used in the production of Teflon pans). Good quality pans with a non-stick coating are usually not light as they have a layered, heavy-duty bottom. The base usually has a lightweight aluminum core that has exceptional conductive properties and distributes heat well. However, aluminum is not suitable for contact with food and is easily deformed. That is why it is often combined with steel and modern alloys, titanium or ceramics. Reputable manufacturers strive to achieve the highest possible durability of modern surfaces to avoid scratches, which is usually the biggest disadvantage of non-stick surfaces.
Steel pans
If you're serious about cooking, a steel pan is the obvious choice. You'll find it in the kitchens of most professional chefs. Steel is a traditional material that is 100% natural and has excellent cooking properties. It distributes heat evenly and also maintains it. Steel gains quality over time, and you don't have to worry about blackening. The frying pan requires firing before first use and is usually sufficient to wipe it down with a paper towel. The French brand De Buyer is an icon in the production of steel pans.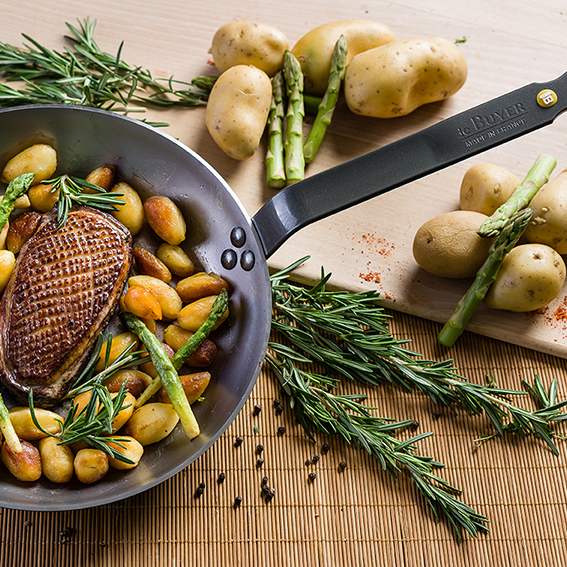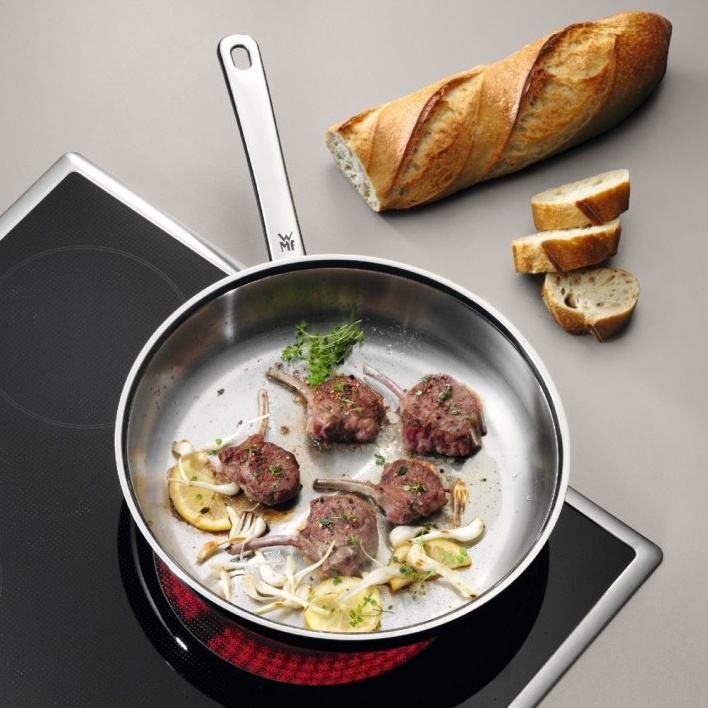 Stainless steel pans
Stainless steel is a super resistant material. The great advantage it has over steel is that it does not rust. In addition, it does not absorb food odors and is not prone to scratching. However, many people don't like its "stickiness". However, even stainless steel can be burned off to create a nearly non-stick surface (see below). In addition, many manufacturers cover their stainless steel pans with a non-stick coating.
Copper pans
they can be a perfect decoration in our kitchen but they are also quite demanding when it comes to maintenance and the price makes it one of the highest kitchen investments. But... it will repay you! Copper pans never go out of fashion, will be the cause of jelousy, and cooking on it will be a pleasure thanks to the instant heat conduction. The inner layer is usually stainless or galvanized steel and you cared for it in the same way as you do with stainless steel cookware. The masters of copper jewels are the French brands Mauviel and De Buyer.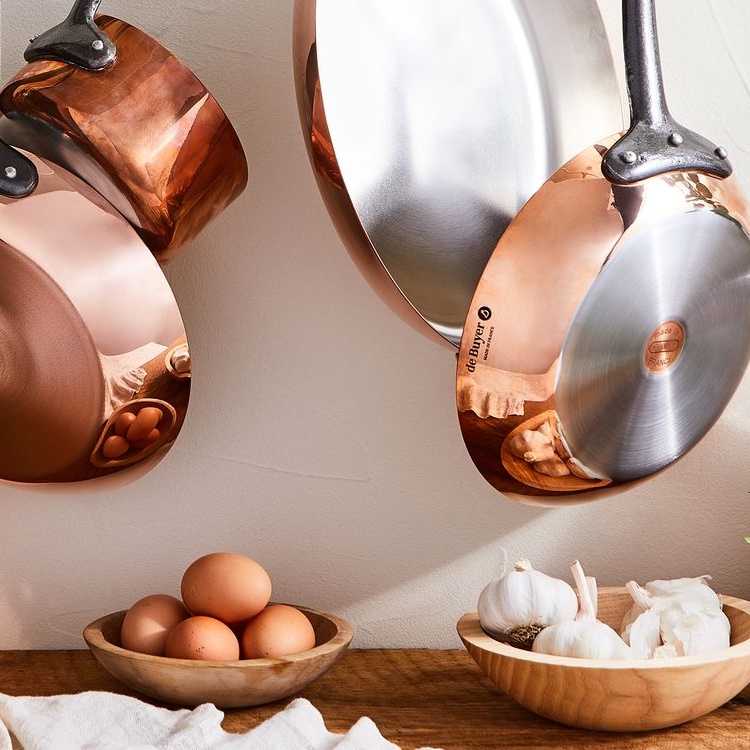 Important properties
Let's summarize the parameters that should be considered when choosing a pan:
is the pan suitable for the type of cooker that you have?
This is what most induction hob owners struggle with. Copper is completely unsuitable for these cookers, and cast iron may not be "friendly" to strong induction. Always check the manufacturer's recommendations for your product.
can you use it in the oven?
Usually, it is a matter of the handle material, and in the case of non-stick surfaces, the type of material used by the manufacturer. Again, be sure to check the specification of each product.
is it dishwasher-safe?
If you have a good quality frying pan, accept the fact that you should not put it in a dishwasher. Steel, cast iron and copper should have as little contact with water and detergents as possible. Steel and cast iron pans can be wiped with a paper towel. The oil film prevents rust caused by moisture in the air and increases the anti-stick properties of the surface.
Are you worried about pans that are not sold as "non-stick"? It is not necessary. Iron/steel and cast iron are naturally non-stick surfaces. And their properties even improve with use. What's important, is to fry your pan before the first use.
Frying your pan
Rinse the pan with boiling water and dry well. Pour oil into the pan to a height of about 1 mm and heat it over medium heat for about 5 minutes (until it starts to smoke). Let the pan cool, then drain the oil and wipe the pan with a kitchen paper towel.
Jakub Černý, the manager of purchase department in Kulina
As part of the basic kitchen equipment, we recommend one universal pan from a renowned manufacturer, e.g. the French brand De Buyer or German brands WMF or WOLL.
You will certainly not go wrong choosing a steel, cast iron or titanium frying pan. They will serve you well for many years if you remember about their proper maintenance.