How often do you buy new pots? Most households are more likely to buy a new car than new cookware! Therefore, when buying new pots and pans, it is worth taking a moment to consider the choice carefully, as once bought, the pots will probably serve you for many years. With well-chosen cookware, preparing your dishes will be easier and you will be able to see the difference on the plate.
What should be considered when choosing new pots?
What kind of pots do I need?
High-quality pots are a big investment. Instead of buying a large set of cheaper pots that will not satisfy your expectations, it is better to start with a few basic models or a small set of 3-4 pots and buy more later if needed. It is much better to have a proven series from a well-known manufacturer and complete it with more pieces over time. Thanks to this, your pots will not only have a uniform design, but will also be stackable, which is very useful if you have limited storage space in your kitchen. What kind of cooking pots are a must-have in every kitchen?
Kitchen essentials - 3 types of pots
a stockpot - for cooking pasta or soups
low casserole- for stewing, with a lid
saucepan - for preparing food that requires mixing: sauces or poridge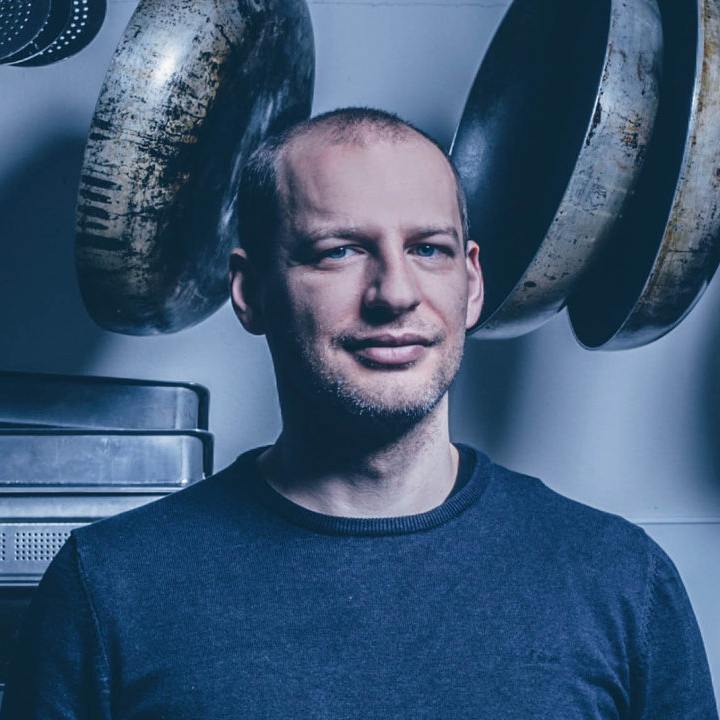 Marcel Vargaeštok, the owner of cooking school Chefparade
A large pot is the basis of your cookware set. How big it should be? It depends on the number of people you're cooking for. Pasta is the most water-consuming dish. You should count 1 litre of water per serving. If there are two of you, a two-litre stockpot is enough; for a family of four, a four-litre pot is necessary.
If you like stewed dishes invest in a pot suitable for use in the oven. A traditional cast iron pot is the best choice. You can use a cast-iron pot with a lid on the stove and for slow cooking in the oven. Thanks to it, the heat will be evenly distributed, which will allow you to prepare a delicious stew or ribs stewed in wine. It is also great for making risotto on the stove.
3 essential types of pots
In your kitchen you are most likely to use 1-2 pots a, casserole and a saucepan.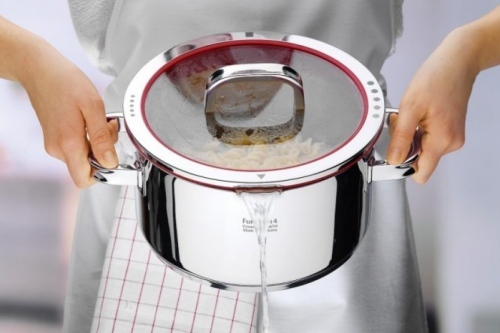 Larger and smaller pots for cooking pasta, soups, side dishes, etc. They are usually as tall as wide. Best with a lid that will help you drain the food.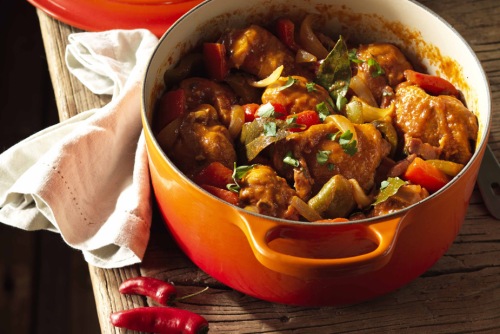 Low casserole for stewing dishes. Always with a lid and ideally made of a material that is also suitable for slow cooking and stewing in the oven. A high-quality cast-iron casserole is a lifetime investment.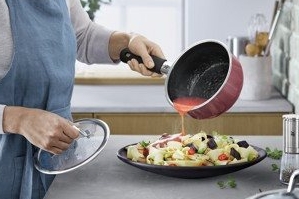 The handle of the saucepan allows you to hold it comfortably with your hand away from the heat source. Perfect for preparing sauces and dishes that require constant mixing.
What material to choose?
The choice of material is crucial for the final taste of the food, your comfort during cooking and also for washing and storage. From a practical point of view, attention should be paid to the fact if the pots you want to buy:
are suitable for your tye of cooker?
can be used in the oven?
are dishwasher safe?
The first question seems to be the most important and the problem most often appears with induction hobs. Most modern cookware is suitable for all types of cookers, but it is worth checking before purchasing. We usually put the saucepans in the oven, so we must pay attention to the handles. Often, the manufacturer specifies a different temperature that can be adopted by the pot itself and a different temperature for the handles. In the case of cast-iron dishes, we need to accept the necessity of washing them by hand. Still, most customers want to wash their pots in the dishwasher.
Stainless steel cookers are the perfect combination of price and quality. They are versatile, durable and easy to maintain.
You can recognize cheap stainless steel pots by their weight
You may be surprised by the wide price range of stainless steel cookware. In a supermarket, you can get a stainless steel pot for just a few Euros, so why pay much more for a well-known brand? Of course, the difference will only be visible after use. A light pot may seem practical, but light stainless steel cookware should be avoided. The disadvantage of stainless steel is its poor thermal conductivity, which means that the pots will not heat up evenly. Thin bottoms also buckle easily, which can be seen quite quickly in cheap products. It does not matter that much on gas cooktops, but on other types of cookers, it is a serious problem. Pure stainless steel pots are also not suitable for induction. How do better quality products overcome these drawbacks? The key is the bottom, which in the case of high-quality products, is composed of several different materials, usually well-conductive aluminum or additional steel, and forms a so-called sandwich bottom. Therefore, a high-quality stainless steel pot will never be light and will have a solid bottom.
Advantages and disadvantages of stainless steel pots
Cast-iron pots are dishes for lifetime. They are naturally non-stick, hold heat well and are suitable for all cooktops. The icon of traditional cast-iron cookware is the French brand Staub, famous for its typical "cocottes" with colourful enamel surfaces. Originally loved for ease of maintenance, today they are also admired for their beautiful look.
Advantages and disadvantages of cast-iron pots
Copper pots and pans can be often found on the wish lists of all gourmets and cooking enthusiasts. These dishes are not to remain hidden in kitchen cabinets and will look great in the kitchen and photos. Their price corresponds to their beauty and great properties, and French brands are the masters in this field. Mauviel and De Buyer.
Advantages and disadvantages of copper cookware
The greatest advantage of ceramic dishes is their non-stick properties. They are easy to clean and can be cooked in with a minimum amount of fat. They are dishwasher safe but do not always work on induction, therefore it is important to check this information when buying a specific product.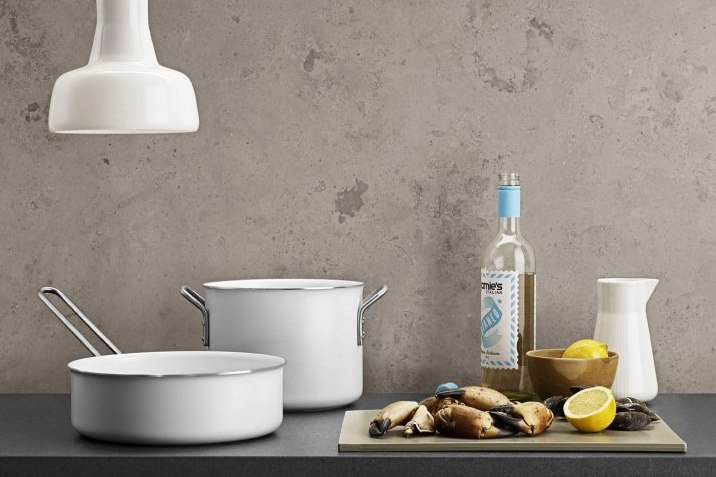 Important properties
Let's summarize the parameters that should be considered when choosing your pots:
suitability for your type of cooker - especially if you cook on induction hob
possibility to use in the oven - buy at least one casserole which you can use in the oven
dishwasher safety - stainless steel pots can be easily washed in a dishwasher but not cast iron and copper dishes. You need to decide which is more important to you as greater functionality and beauty requrie washing pots by hand and greater care.
bottom thickness - the structure and technology of the bottom is the main parameter of the stainless steel cookware. The better the quality of the bottom, the better the thermal conductivity and the cooking.
handle construction
- type of material: the handles of the pots are usually made from metal, plastic or a combination of different materials. Plastic handles do not heat up quickly, and therefore it is not necessary to use gloves to grip them. However, they are not suitable for the oven and are typical for cheaper dishes. Higher-quality pots offer handles that, thanks to the combination of materials and the appropriate handle design, minimize the heating of the handles without the use of plastic.
- type of fixing: the handles are either welded (the connection from the inside of the vessel is practically invisible) or riveted. For stainless steel pots, it is better to choose welded handles, as they are more elegant, and dirt does not settle on the rivets. For materials where welding is not possible, riveting will be fine.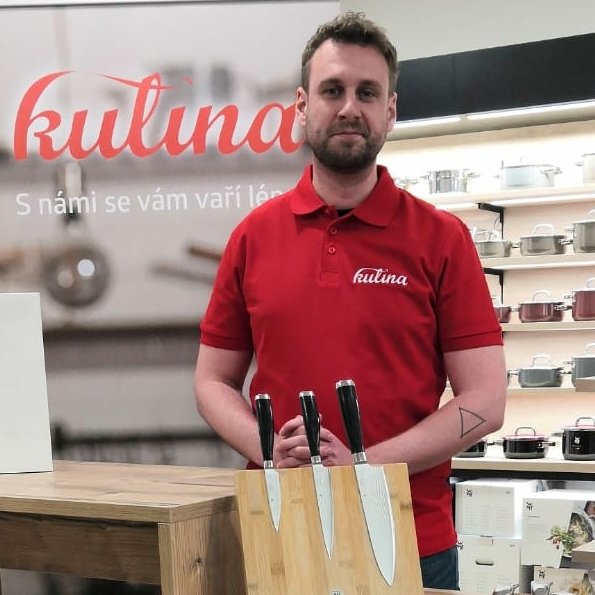 Jakub Černý, head of the purchasing department in Kulina
As part of basic kitchen equipment we recommend 4-5 piece cookware sets of stainless steel pots from well-known German manufacturers such as WMF, Fissler or Zwilling. These high-quality universal pots with reinforced bottom will fully satisfy the needs of everyday cooking.
More advanced cooks often equip their kitchens also in cast-iron casseroles from Staub, iconic ceramic pots manufactured by a French brand Emile Henry and copper pots by Mauviel and De Buyer. These products are also often bought as Christmas gifts or as a present for newlyweds.