Champagne glass BLACK SERIES COLLECTOR'S EDITION, 170 ml, Riedel
Code:
RD410008R
Related products
Product detailed description
The first series of custom-made glasses for different wine varieties is presented in a brand new guise in 2013. The Riedel factory in Kufstein, Austria, the birthplace of the world-famous Sommeliers glass series, celebrates 40 years. Special collector's editions were created for this occasion. The Black series, black opaque crystal, hand-blown into the most popular glass shapes, is an appropriate way to celebrate such an anniversary.
The crystal turns black by adding cobalt and manganese. For experienced glassblowers, blowing the shape and pulling out the stem is a real challenge, as this mixture cools and solidifies much faster than clear crystal. But to make the task no small challenge, the glassmaking bar is raised even higher with the "R" Black series, where the stem of these glasses contains a very fine red glass string encased in clear crystal. While these series can be used to consume wine, they are primarily intended as works of art to decorate the homes of avid wine collectors.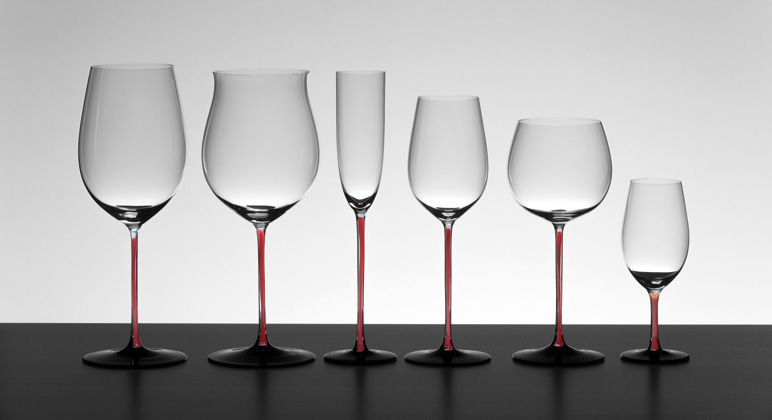 The Champagne Sommeliers glass, a classic flute, thanks to its slender shape and narrow opening, the champagne has a more pronounced flavour of minerals and iron.
This shape is the choice of all connoisseurs who choose a glass based on aesthetic considerations.
Champagne Sommeliers Riedel glasses are recommended for grape and wine varieties:
SOMMELIERS series:
Claus Riedel introduced the first series of glasses for connoisseurs in 1973 in Orvieto in collaboration with the Italian Sommeliers Association A.I.S. (Associazione Italiana Sommeliers). The series includes 10 different sizes.
From this moment on, the world of wine has changed fundamentally.
In different regions and on different continents, wines are produced today that did not exist or were completely unknown at the time. Therefore, the development of the Sommeliers series was continued by his son George Riedel until the Sommeliers became an extensive "vitrum-vinoteque" at the highest level of technical development.
In 1991 Robert Parker, editor of Wine Advocate magazine wrote: "The best glasses, both from a technical point of view and from the point of view of maximum enjoyment, are those made by Riedel. The effect that these glasses give to fine wine is truly extraordinary. I can't express enough how much of a difference it makes."
Thanks to worldwide demand, the Sommeliers series is now the absolute top wine glass series and the most successful hand-blown wine glass series in the world. Each glass is made separately: the top is blown in a mould, the stem and base are shaped by hand according to production methods developed in the early 1900s.
The glassmakers use their talents, their skills and care for details are essential to give the Sommeliers series the craftsmanship customers expect. Sommeliers are made of glass with more than 24% lead content.
Be the first who will post an article to this item!