A practical shopping guide to 10 essential items every kitchen needs and that are worth investing in.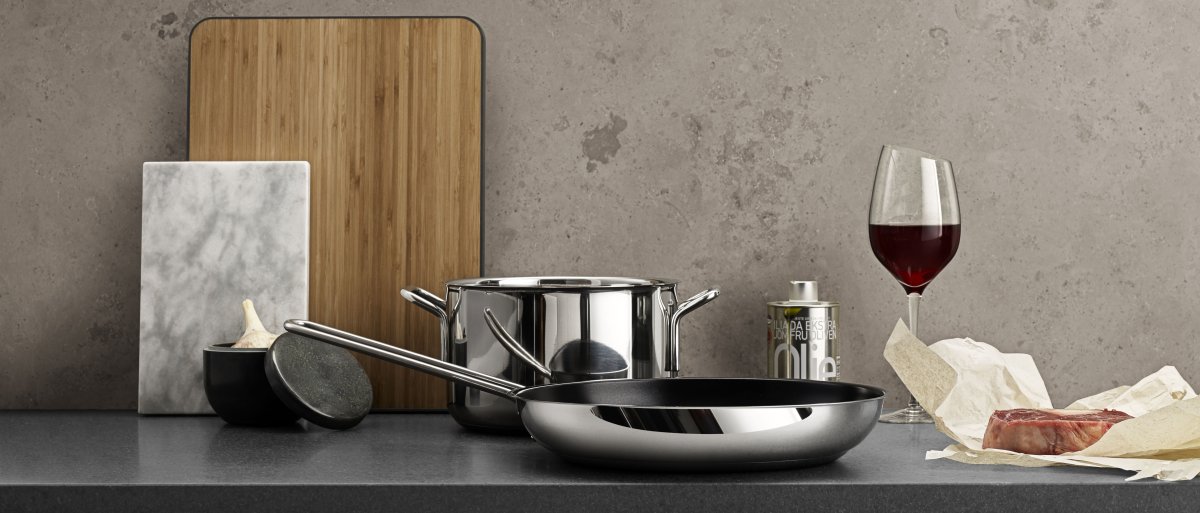 What are kitchen essentials?
When it comes to the number of kitchen tools, gadgets and accessories available on the market sky is the limit, but in our guide, you will find 10 basic kitchen tools that every kitchen needs and that will let you challenge every recipe. This is an ultimate buying guide for all who want to purchase cookware for a new kitchen, for those who want to replace old kitchen accessories and stock up on high-quality, basic functional kitchen tools.
Kitchen essentials are the items that you use all the time, so we made sure our guide is full of reliable, long-lasting, high-quality products made from food-safe materials and manufactured by brands specializing in kitchen tools. They offer you not only the product but also solutions, technology and design which will make your food preparation and cooking easy, fast, effective and… a real pleasure.
10 key items you need in your kitchen - list of content
Kitchen knives set
Cutting board
Universal pan
A set of pots
Electric kettle
Roasting pan
Set of kitchen utensils
Kitchen bowl + colander
Hand blender
Cake pan
Your kitchen basics
What kind of knives do I really need in my kitchen?
If you are wondering how to choose the right knives for your kitchen check our guide on kitchen knives HERE but generally speaking every kitchen needs a basic set of knives including:
Are wooden chopping boards worth buying?
Woods like maple, bamboo or teak won't blunt the blades of your knives as easily as plastic, marble or glass cutting boards. Wooden boards – if you take care of them properly – will always look good and serve you for years (also as serving boards for cheese or other snacks). And if you want your cutting board to last a lifetime, remember not to put it into a dishwasher and to apply a good amount of mineral oil to the entire surface of the board and let it soak in overnight. If you do it regularly your cutting board will be more resistant to moisture, it won't dry out or warp.
Which chopping boards are worth investing in?
How to choose the right pan or a set of pans?
First of all, check our complete guide on pans to make sure you go for the one that meets all your expectations and when choosing the right pan for your kitchen take into consideration the following:
the size of the pan (for how many people you usually cook)
type of cooker that you have (gas, electric or induction? It may be also useful if your pan would be suitable for use in the oven)
the type of food you usually cook
the material (probably the most important factor of all - will you go for a steel or a non-stick pan?)
What are the essential types of pans for every kitchen?
Ready to boil
How to choose a set of pots for my kitchen?
If you are looking for a set of pots that will serve you for years and guarantee great cooking results and that is worth investing in, check our ultimate guide on choosing the right pots here and before you make your final decision, think about the following characteristics of your cookware:
what kind of pots do you need, how many and how big should they be (a stock pot, low casserole and a saucepan seem to be the absolute minimum)
what material should you choose – consider only high-quality, durable materials that suit the type of cooker that you use and – if that's important for you – if the material/ the product is dishwasher or oven safe (read more about the available options and materials here)
what kind of characteristics should your pots have (glass lids, inside measures, heat-resistant handles)
What are the most essential pots for every kitchen?
What kind of electric kettle should I buy?
First of all, choose a reliable producer. A brand that offers product service and that has a good reputation among customers.
Invest in a high-quality kettle made from top-quality materials as you don't want to be forced to replace your kettle every year or two, right?
Choose the capacity that matches your needs and a style that matches your kitchen.
When choosing your kettle think about the colour of other small kitchen appliances on your kitchen tops (blender, toaster, etc.) or buy one from a collection of appliances that you like and that you would love to invite to your kitchen giving the space a harmonious, stylish look.
Which electric kettles do we recommend?
What kind of baking dish should I choose?
Handy helpers
What does a standard set of kitchen utensils include?
solid mixing spoon
slotted spoon
meat fork
(slotted) turner
ladle
Check the sets of kitchen utensils from brands specializing in functional, long-lasting and good-looking kitchen accessories and pick the one that will serve and look the best in your kitchen.
What to choose?
What kind of hand blender should I buy?
If you are wondering what kind of hand blender is worth investing in, check our list of the most useful functions and accessories below and choose a blender that answers your needs. What functions, features and accessories do modern hand blenders offer?
powerful motor power
several speed settings
pulse and turbo function
stainless steel blades
additional accessories such as a whisk, chopper, measuring jug
slim, compact design
What would we recommend?